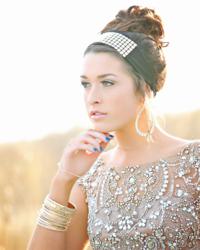 BBT Style headbands answer a more or less unmet need, which is for practical but stylish active wear hair accessories, something that looks great but keeps your hair under control.
Lincoln, ND (PRWEB) February 05, 2013
Melissa Ahonen is excited about the future of her hair accessory company, BBT Style (http://www.bbtstyle.com). Efforts to get the company's headbands in front of Nashville and Hollywood celebrities have paid off. First, with product placement in the Lifetime Movie Network's indie film, "Dark Desire", where actress Nia Peeples is seen wearing a BBT Style "Green Flower Power" headband poolside. And also, in a recent partnership with country singer and ex-The Voice contestant Adley Stump to create and market a line of couture headbands.
Watch a BBT Style video here.
The Adley Stump connection came about when Ahonen reached out on Twitter, offering to send Stump several headbands to try. Ahonen learned the two shared a love of the iconic hair accessory and a partnership was born. The Adley Stump Collection was officially launched in August 2012 and the bands are now available in shops and boutiques across the south central United States and on the BBT Style website.
"Adley likes animal prints, bling, color, and more bling and we have incorporated all of those," laughed Ahonen. "Three new bands are in the works; we will introduce them in early 2013. You can expect to see bling, metal and a touch of sass in each one."
Nia Peeples discovered BBT Style through a collaborative gift bag Los Angeles-based The Artisan Group prepared for her. Ahonen contributed to the bag two fun, brightly colored, wide cotton headbands that she thought would match Nia's personality.
"A week after opening the gift bag, Nia tweeted that she had wrapped up the movie "Dark Desire" and mentioned she had worn my "Green Flower Power" headband while filming," noted Ahonen. "The "Dark Desire" director had also posted a photo of Nia wearing the headband during filming, which a friend clued me in to."
Ahonen sees her company re-defining the headband as a fashion necessity for active, style-conscious women and girls of all ages. A total rewrite of traditional headbands worn by the likes of Mary Tyler Moore and Patty Duke and a bolder take on the delicate versions sported by style icons like Paris Hilton and Milla Jovovich in recent years; they combine practicality with an inimitable sense of fun and a bit of flirt.
"BBT Style headbands answer a more or less unmet need, which is for practical but stylish active wear hair accessories, something that looks great but keeps your hair under control," said Ahonen. "BBT Style blossomed when my young niece asked for something she could wear to keep her hair out of her face during sports and other activities. I had the feeling I was on to something bigger, grabbed some fabric, elastic, a pad and pencil and the rest was history."
The headbands, wraps and sashes, along with a line of newsboy caps, are fashioned with luxe fabrics and embellishments and offer the wearer the opportunity to achieve 'hair without a care' chic in looks that range from rock 'n roll to country to all out Hollywood bling—and everything in between.
BBT Style is also in the hands of Miranda Lambert, Lauren Conrad, Allison Schmitt, Denise Richards, RaeLynn, Nick and Vanessa Lachey, Diem Brown, Hilary Duff, Suri Cruise and Jessica Alba's daughter Honor, who the paparazzi have photographed wearing BBT Style on several occasions.
Soaring sales make it clear the company is hitting the right note with female consumers. As for what's next, Ahonen says BBT Style will be adding two new headband styles and will be expanding its presence in brick and mortar locations. "We are always looking for new styles, fabrics and variations to offer our customers to make sure they have the most fabulous hair accessories out there," noted Ahonen.
To learn more about BBT Style and the Adley Stump Collection, contact Melissa Ahonen at 701-400-0084 or by email. Shop BBT Style at http://www.BBTStyle.com, and at select retail locations in the United States and Canada. Follow BBT Style on Facebook (http://www.facebook.com/bbtstyle) and Twitter (@BBTStyle).
About BBT Style
BBT Style (http://www.BBTStyle.com), headquartered in Lincoln, North Dakota, creates fun, stylish headbands and hats for all ages. We love fabric and believe you can never have too much. BBT Style is a proud member of The Artisan Group and Pride of Dakota.