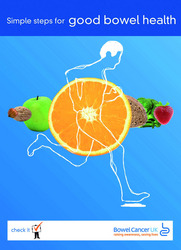 (PRWeb UK) March 31, 2010
Despite the fact that someone is diagnosed with bowel cancer every 15 minutes in the UK, many people are still unaware of the symptoms or of the simple steps they can take to help reduce their risk of developing the disease. That's why Bowel Cancer UK is once again promoting Bowel Cancer Awareness Month (BCAM) this April.
To coincide with the awareness month, Bowel Cancer UK has produced a Good Bowel Health Booklet, which includes straightforward advice on how people can look after their digestive health through diet and exercise. During April and beyond, this will be used as part of its UK-wide health promotion activity to spread the message that making changes to diet and lifestyle doesn't have to be challenging.
Evidence shows that vegetables, fruits, and foods containing fibre, such as wholegrains and pulses, may protect against bowel cancer as well as against weight gain and obesity. Similarly, physical activity and regular exercise help to maintain a healthy weight, and research suggests that the more physical activity a person does, the more likely they are to decrease their risk of bowel cancer, which is why the fundraising focus throughout the month will be Let's Get Moving.
The charity is asking its supporters to organise their own tea dance, but there are also many other activities that will get people moving during April. Anyone interested in holding a tea dance or another fundraising event can request a fundraising pack. The charity can also provide awareness materials for your workplace, community centre or local gym.
Deborah Alsina, Chief Executive of Bowel Cancer UK says, "We would like to get as many people as possible on board in order to help us raise awareness and funds during BCAM. Most importantly, we want people to understand that eating healthily and increasing the amount of exercise they do really can improve their digestive health and could also help to reduce their bowel cancer risk."
Anyone interested in raising awareness or funds during BCAM should call 020 7381 9711 or visit http://www.bowelcanceruk.org.uk/.
###