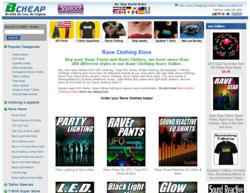 At Bcheap.com they are all about providing their customers with the newest rave clothes and rave lifestyle accessories.
Wantagh, NY (PRWEB) May 31, 2011
Online rave gear retailer BCheap.com announces the arrival of about a zillion hot new additions to their online catalog. Visit http://bcheap.com to browse their amazing assortment of fat bottom pants, sound reactive t-shirts, printed T-shirts, urban clothes, skater gear and all kinds of funky fashion footwear. Plan to relax and spend a while at their website, because BCheap now lists more than 17,000 items in their colorful and entertaining online catalog.
"We didn't just add more products to our catalog, we also include a new navigation menu where users can access all our categories in just one click" said Manuel Ramirez, webmaster and head web designer for BCheap.com.
BCheap invites the world to view their recently expanded online catalog to find every sort of rave clothes, skater clothes and urban clothes imaginable. Recent arrivals to the catalog include raver pants, raver led club toys, a series of hilarious Charlie Sheen T-shirts and Dead Bin Laden shirts. But BCheap it's not only great clothes, they also sell super-fast skateboards, body jewelry, party lighting, stuff to decorate your room, footwear and more.
Want black rubber jewelry or a Hawaiian puka shell necklace? Need a place to stash your valuables or some interesting smoking accessories? How about a nice new tongue stud or a barbell for your belly button? BCheap.com is the place to get all these things and more. If you're up to wear a wild new hair color at your next rave, check the selection of fun and freaky hair effects by Manic Panic, Jerome Russel and Starlight Strands.
At BCheap.com they are all about providing their customers with the newest rave clothes and rave lifestyle accessories. Not only do they offer very cool stuff, they sell it for the fairest prices anywhere. If you have been buying your rave clothing from a mall, you are going to be delighted with and impressed by the entirely affordable price tags at BCheap.com. Check the Clearance link near the top of the page to save even more scratch on your favorite kinds of rave clothes. Ordering online is simple and safe with 128bit encryption and a secure server. BCheap ships to virtually anywhere in the world.
BCheap is the go-to destination for all of your rave gear and urban clothes needs. It's totally easy to be hot and cool at the same time with rave clothing, skater gear and urban accessories from BCheap.
About BCheap.com:
At BCheap.com, customers can find cool, trendy and offbeat clothing and footwear. This is the place to shop for the latest urban and rave clothing trends such as UFO Pants, EQ Equalizer, Tripp Pants, Ghast Clothing, Heelys Shoes, Xzavier Da Grind, Bulzeye Clothing and many more. Bcheap.com not only offers the convenience of shopping online 24/7; customers will find a much higher level of security during their shopping experience.
###