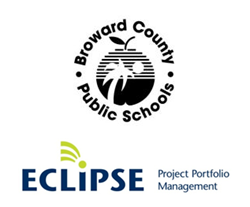 Toronto, Ontario (PRWEB) December 11, 2013
Broward County Public Schools (BCPS), the sixth largest public school system in the United States, has purchased Solution Q's Eclipse Project Portfolio Management (PPM) software to effectively manage their growing project portfolio.
Like many of Solution Q's clients, BCPS were looking for a software package that would allow them to store all project information in one place, manage, plan and track resource capacity and provide real-time reporting on projects and portfolio. Additionally, they wanted something that would allow them to address a number of key challenges. BCPS needed a solution that would improve their project intake, prioritization and increase their project and portfolio visibility.
After making the decision to improve all areas of their project portfolio management, BCPS determined the need for a Project Management Office (PMO), which a tool had to support the development and operation of. With this in mind, Eclipse PPM became the leading contender, particularly for its reporting capabilities, ease of use, its ability to provide transparency regarding project statuses and health conditions, as well as its integration capabilities with programs such as MP Project and network stored documents.
Myra Burden, Director, Technology, Planning and Policy at BCPS further went on to say that "Broward County Public Schools purchased Eclipse PPM as the preferred tool to support operations of a new Project Management Office and provide transparency and reporting regarding project status and health conditions."
The capabilities and functionality of the software were certainly a large contributing factor as to why BCPS chose Eclipse PPM, but the software was also chosen because of Solution Q's implementation process that provides onsite configuration workshops, training sessions, the provision of user documentation and ongoing technical support.
Whilst many buyers will start their search for a PPM tool only with features and functionality in mind, Solution Q has seen great success in the market with its three-pronged approach of simplifying the successful implementation of PPM Software by starting simple, addressing process and behaviour change to achieve results and train and adapt over time.
Solution Q looks forward to the continuing relationship with Broward County Public Schools and working with them to further their project portfolio management success.
About Broward County Public Schools
Broward County Public Schools (BCPS) is the sixth largest public school system in the United States, the second largest in the state of Florida and the largest fully accredited K-12 and adult school district in the nation. BCPS has over 260,000 students and approximately 175,000 adult students in 229 schools and education centers and 95 charter schools. For more details please visit their site http://www.browardschools.com
About Solution Q
Solution Q is the maker of Eclipse PPM, project portfolio management software that helps to simplify project and portfolio management to make it more successful for 'all voices in the room.' Solution Q provides a combination of process, PPM software and partnership to deliver improved business results. For more information visit http://www.eclipseppm.com/content/project-management-software