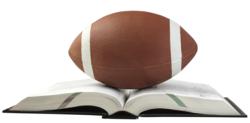 It's interesting to our readers to learn what major organizations and celebrities must do in order to make their millions, as well as what actually happens to that money once it's earned.
EL SEGUNDO, CA (PRWEB) January 06, 2013
Tomorrow night, the BCS national championship game will take place, with college football teams Notre Dame and Alabama playing for the top title. However, these teams also competing for millions of dollars in BCS payout money by participating in bowl games. http://www.GoBankingRates.com explored how much money college teams stand to earn in BCS payouts and how that money is returned to schools and players.
"As a resource for individuals who are interested in saving money ideas, investing, and money management in general, it's interesting to our readers to learn what major organizations and celebrities must do in order to make their millions, as well as what actually happens to that money once it's earned," Go Banking Rates managing editor, Casey Bond, stated.
Though there is national fame and millions of dollars to be enjoyed by winning teams, making it to a bowl game means that football players must reconcile their athletic prowess with the pressure to win, as well as the expectation they maintain top performance in classrooms.
Go Banking Rates investigated just how much money in BCS payouts is at stake for qualifying schools, and found that all eight teams that competed in this year's four college bowl games will receive $17 million each, according to a December 11, 2012, 'The Bleacher Report' article by James Williams titled, "CFB 2012-13 Bowls: Updated Broadcast Information, Payouts and Favorites":
Those games and teams include:

Rose Bowl: Stanford & Wisconsin
Discover Orange: Northern Illinois & Florida State
Allstate Sugar: Louisville & Florida
Tostitos Fiesta: Oregon & Kansas State
The forenamed 'The Bleacher Report' article also notes that $18 million will go to both of the top two ranked BCS teams — Notre Dame and Alabama — for appearing in the BCS National Championship game in Miami, on January 7.
Where Does the Money Come From?
Go Banking Rates found that the BCS raises its funds in a variety of ways, but most lucratively in a 12-year, $470 million playoff broadcasting contract with ESPN, as explained in the December 11, 2012 article, "Big earnings for power conferences," on ESPN.go.com. Brett McMurphy, the college football reporter of the ESPN story, states that the earnings are divided among the BCS' five leagues, which include the Pac-12 and Big Ten, but also the SEC, ACC and Big 12.
One hundred twenty-five million dollars, according to McMurphy's article, sees its way towards numerous league expenses, part of which does include an academic component. Much of the rest of the money goes into game and ticket promotions.
To view the full report, please click here.
About Go Banking Rates
http://www.GoBankingRates.com is a national website dedicated to connecting readers with the best interest rates on financial services nationwide, as well as informative personal finance content, news and tools. Go Banking Rates collects interest rate information from more than 4,000 U.S. banks and credit unions, making it the only online rates aggregator with the ability to provide the most comprehensive and authentic local interest rate information.
Additionally, GoBankingRates.com partners with a number of major media outlets such as Business Insider and US News & World Report to provide compelling and edifying personal finance content, and its expert editors have been featured and quoted on several premier finance websites like Yahoo! Finance, Forbes, The Street, Huffington Post and more.
GoBankingRates.com belongs to a network of more than 1500 finance websites, including GoInsuranceRates.com and GoFreeCredit.com. These sites receive more than 2 million visits each month.
For questions or comments, please contact Jaime Catmull, GoBankingRates.com Director of Public Relations, at JaimeC(@)GoBankingRates(dot)com, or 310.297.9233 x261.
###