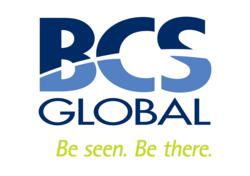 London, United Kingdom (PRWEB) January 19, 2012
BCS Global Networks Limited, a leading worldwide provider of managed videoconferencing, telepresence, and visual collaboration services is entering 2012 with a rapidly growing global customer base, expanded partner ecosystem, continued build-out of its services portfolio and increased industry recognition and market validation.
"BCS Global experienced phenomenal success in 2011 with growth in many areas across the company - in our team, our partners, our customers, our financials and our capacity; this trend is only going to continue into 2012, and we're very excited about it," said Clive Sawkins, CEO of BCS Global. "In 2011, we observed increased mainstream adoption of our managed video collaboration services among our partners and clients in different industry verticals, which is a clear validation of our value proposition. As video collaboration continues to grow and becomes more ubiquitous in the enterprise, we expect the demand for managed video services to increase significantly in 2012 and beyond and BCS Global is well positioned to take advantage of this growth."
BCS Global provides end-to-end video collaboration services for today's businesses through its comprehensive suite of products and services. Its managed video services are easy-to-use, provide a superior user experience, and are available anywhere, anytime, over any network, and on any video device - complemented with world class support services and usage adoption programs.
2011 BCS Global Highlights:
1. Revenue acceleration. Revenues from channel and direct sales generated a high quality revenue stream consisting of immediately recognized revenue as well as recurring monthly revenues. In 2011, BCS Global revenues grew approximately 128% over 2010.
2. Global customer count increases. Many new customers were added across the globe in different verticals, which increased BCS Global's endpoints under management in over 85 countries worldwide.
3. Partner program grows. BCS Global continued to grow its partner ecosystem by signing new partners that included white-label partners, system integrators and resellers.
4. Product innovation. BCS Global continues to innovate and launch new services in the marketplace that cater to its customer requirements. In the second half of 2011, BCS Global launched the world's first cloud-based mobile enterprise video services based on the SVC technology.
5. Innovative vertical applications. Successful launch of new industry specific video collaboration services for its customers. Some of the notable areas included Telemedicine and Telejustice.
6. Increased service automation. To automate and optimize its back-office operations, BCS Global has developed and launched a video-centric OSS/BSS software platform to manage its infrastructure.
7. Customer portal launch. BCS Global's support and help desk services are available through various channels – phone, video, and email. In an effort to empower the end user with more self-serve options, a new customer portal was launched with capabilities for scheduling, trouble ticket management and reporting.
8. Services portfolio enhancements. Based on feedback from customers and in response to new market trends, BCS Global launched several new products and new feature enhancements across its products and services, including a new consulting practice.
9. Usage adoption programs. As part of its consulting services, BCS Global launched a new service offering that helps enterprises to build and implement customized video usage adoption programs targeted at increasing video collaboration adoption rates.
10. Interoperability and Inter-company video collaboration. Looking ahead at the emerging requirements for B2B video collaboration services, BCS Global has built its own Global Video Exchange with interconnects to various regional and global telecom carriers, which provides our customers with a seamless B2B telepresence service. BCS Global is also part of various alliances in the marketplace - as a founding member of OVCC (Polycom's Open Visual Communications Consortium), and a member of XConnect's VIE network.
About BCS Global
BCS Global Networks Limited is a leading worldwide provider of managed videoconferencing, telepresence and visual collaboration services. BCS Global's innovative videoconferencing and telepresence solutions enable real-time, rich interactive video collaboration allowing participants to connect seamlessly from their telepresence suites, boardroom systems, desktops, laptops, smartphones or tablets. The company owns a fully deployed Global B2B Video Exchange, which enables users across the world to meet instantaneously regardless of their video system, network provider or type of connection.
Headquartered in the UK, with offices in New York, Toronto, Shanghai and Hong Kong, BCS Global provides comprehensive managed video collaboration services and a 24x7x365 global live video and audio help-desk support to its customers across the globe in over 85 countries across different industry verticals, and major telecom carriers and their customers globally.
For more information, please visit http://www.bcsglobal.com or connect with BCS Global on YouTube (http://www.youtube.com/user/BCSGlobal/videos), LinkedIn (http://www.linkedin.com/company/bcs-global-networks-limited), and @BCSGlobal on Twitter.
###