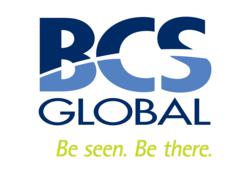 Toronto, Ontario (PRWEB) June 01, 2011
BCS Global Networks Limited, a leading worldwide provider of managed video conferencing, telepresence and visual collaboration services, today announced they have teamed with Polycom, Inc. (Nasdaq: PLCM) and leading service providers from around the world to form the broadest visual communications exchange of its kind, the new Open Visual Communications Consortium™ organization (OVCC™). Interconnection agreements will allow OVCC members to provide secure, standards-based business-to-business (B2B) connectivity to organizations and consumers connected to hundreds of service providers in countries around the world.
Sponsored by leading unified communications company Polycom, OVCC includes BCS Global and 13 other global service providers as founding members. The consortium will be extended to include additional service providers in the future. OVCC will solve a key barrier to broader visual communications adoption by enabling interoperable global B2B connectivity for telepresence and video conferencing and high-quality connectivity across service provider networks.
As enterprises escalate their use of visual communications as an intra-company collaboration tool, there is now a growing need for inter-company collaboration with their customers, suppliers and partners, which is fuelling the demand for public inter-company B2B connectivity. By joining OVCC, BCS Global is now well-poised to deliver seamless B2B connectivity and a broader set of B2B service capabilities through its "Global Video Exchange".
"We are very excited to be a founding member of Polycom's OVCC initiative," said Clive Sawkins, CEO of BCS Global. "I am confident that this partnership will result in building a network that is capable of delivering high-quality and easy-to-use B2B visual collaboration services to our mutual enterprise customers. With the addition of this capability, we're extending the power of video collaboration to our customers beyond their enterprise, which demonstrates our commitment as a managed service provider to deliver services that enhance customer value and complement existing video service offerings."
"The growth and potential business and user value of telepresence has historically been stifled by interoperability and connectivity challenges," said Andy Miller, Polycom CEO. "Today, Polycom and OVCC are rewriting the rules. This groundbreaking global consortium is transforming the connectivity model, with a world-class global exchange that over time, removes the barriers to ubiquity, thus further enabling our UC Everywhere™ vision."
The OVCC organization model will, over time, remove the barriers to visual communications ubiquity and accelerate the use of telepresence and video conferencing. The consortium will significantly increase the business value of new and existing visual communications systems, because they will open video communications to millions of users.
"Our goal is to collaborate with industry leaders to accelerate the adoption of visual communications in the workplace, and we see tremendous value in participating as a founding member of the Polycom sponsored OVCC initiative. This next generation neutral federation platform represents a key piece of architecture required to facilitate seamless B2B connectivity," said Dan Tanel, CTO of BCS Global. "BCS Global has been advocating the adoption of B2B video communication for some time now and this partnership reinforces our commitment to make video calling simple and easy to use, both inside and outside the enterprise," Tanel added.
OVCC will open to new members beginning in the second half of 2011. OVCC service is expected to launch mid-year 2012. For more information please visit http://www.polycom.com/ovcc.
About BCS Global
BCS Global Networks Limited is a leading worldwide provider of managed video conferencing, telepresence and visual collaboration services. BCS Global's innovative video conferencing and telepresence solutions enable real-time, interactive video collaboration allowing participants to connect seamlessly from their desktops, home offices, boardrooms or telepresence suites. The company owns a fully deployed Global B2B Video Exchange, which enables users across the world to meet instantaneously regardless of their video system, network provider or type of connection.
Headquartered in the UK, with offices in New York, Toronto, Shanghai and Hong Kong, BCS Global provides comprehensive managed video services and a 24x7x365 global live video and audio help-desk support to its customers across the globe in different industry verticals, and major telecom carriers and their customers globally. For more information, please visit http://www.bcsglobal.com or connect with BCS Global on YouTube, LinkedIn, and Twitter
Media contact:
Alim Khan
Director, Marketing
+1-647-722-8515
###