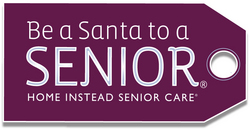 But family members or friends may notice that a senior is experiencing the blues for a long time and that what they may have thought was simple sadness is actually a serious case of depression
Omaha, NE (Vocus) October 14, 2010
The holidays can be a troubling time for seniors for various reasons. They may feel more acutely the passing of time, the absence of parents, siblings and friends who have died, and the distance of loved ones who have moved away. The Home Instead Senior Care® network's "Be a Santa to a Senior Program®" can provide a ray of hope for many seniors who are lonely during this holiday season by providing gifts and companionship.
For most, the holidays are a time to gather with friends and family, celebrate, reflect on the past and plan for the future. Many seniors, however, don't look forward to the holiday season with that same anticipation. Gone are the days when they could cook a turkey dinner with all the fixings, or when they purchased gifts for dozens of children and grandchildren. Perhaps their spouse has passed on and their children have moved away. Many seniors eventually are alone.
It is normal to feel subdued, reflective and sad in the face of these losses and changes, according to the Geriatric Mental Health Foundation. "But family members or friends may notice that a senior is experiencing the blues for a long time and that what they may have thought was simple sadness is actually a serious case of depression," said Gary J. Kennedy, MD, a board member of the Geriatric Mental Health Foundation.
According to the Geriatric Mental Health Foundation, some major factors contributing to holiday depression in the elderly are financial limitations, loss of independence, being alone or separated from loved ones, failing eyesight (and lessening of the ability to write or read holiday correspondence), and loss of mobility and/or the inability to attend religious services.
The holidays – when families are all together – are an opportune time to observe an older loved one for warning signs of depression. Families are urged to seek help for their loved one if they observe the following signs, from the Geriatric Mental Health Foundation.
-- Persistent sadness
-- Withdrawal from regular social activities
-- Slowed thinking or response
-- Lack of energy or interest in things that were once enjoyable
-- Excessive worry about finances or health
-- Frequent tearfulness
-- Feelings of worthlessness or helplessness
-- Weight changes
-- Pacing and fidgeting
-- Changes in sleep patterns (inability to sleep or excessive sleep)
-- Inability to concentrate
-- Staring off into space (or at the television) for prolonged periods of time
The Home Instead Senior Care network recognizes that the holidays can be a difficult time for many seniors. That's one of the reasons the organization launched the Be a Santa to a Senior, program, a campaign that targets seniors who may be alone and not likely to get gifts during the holidays.
"People get busy during the holidays and many might not realize that there are older adults in their communities who are lonely and disconnected from the spirit of the season," said Paul Hogan, co-founder and chairman of the Home Instead Senior Care network. "We have found that this program provides a much-needed boost, not only through gifts but also through human interaction."
Prior to the holiday season, participating local non-profit organizations identify needy and isolated seniors in the community and provide those names to local Home Instead Senior Care offices for this community service program. Christmas trees in participating retail stores feature ornaments with the first names only of the seniors and their respective gift requests. Shoppers can then take an ornament and purchase the items on the list.
Home Instead Senior Care offices then coordinate gift-wrapping and delivery through volunteers in the community.
Seniors who are, in fact, depressed need medical attention. But just knowing that someone cares can be a big help. So is acknowledging that the holidays can be difficult, according to the Geriatric Mental Health Foundation. "Many people don't want to admit that life is not always as cheerful as portrayed in the media or in advertisements," Dr. Kennedy said.
For more information about older adults and depression, please visit the Geriatric Mental Health Foundation Web site.
# # #