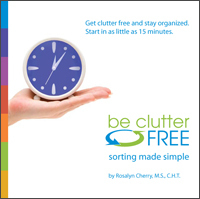 How can you de-clutter your life using books that can't de-clutter themselves?
New Paltz, NY (Vocus) October 13, 2009
Anyone who has ever spent time in the kitchen knows that the only way to learn how to cook or bake is by following a recipe. The same is true with letting go of clutter. By following the be clutter FREE recipe of action steps this guide supports readers in strengthening their de-clutter muscles. The be clutter FREE method to living a clutter free life is highlighted with lively color and imagery. From the turn of the first page this guide encourages readers to get started, stay motivated and engaged, overcome stumbling blocks, and conquer the decision making process of choosing what to let go of and what to keep.
Be clutter FREE author Rosalyn Cherry has finally made sorting simple by consolidating over 15 years of experience as a professional organizer into this easy to use color-coded step-by-step action plan. Rosalyn's experience has granted her with an understanding of exactly what "is missing" when individuals attempt to de-clutter yet are disheartened as a result of their emotional blocks. Her understanding of these emotional hang-ups form the core essence of the be clutter FREE method. Along with motivational ideas and tips for de-cluttering it is next to impossible to pick up the be clutter FREE book and not stay engaged.
Currently, the majority of books written to focus on the de-cluttering process are themselves cluttered with words and photographs. Rosalyn asks, "How can you de-clutter your life using books that can't de-clutter themselves?" You can't! With the be clutter FREE book readers are empowered with the freedom and confidence to start whenever they want, wherever they're at, with whatever they've got. To find out more about the book visi thet be clutter FREE website or purchase directly on Amazon.com
ABOUT THE AUTHOR:
Rosalyn Cherry believes in consuming less and sharing more. She moved from a ten room NYC apartment with lots of closets to a one bedroom New Paltz apartment with hardly any. She left her homestead of 31 years to experience first hand what it was like to truly let go. The knowledge she gained from this experience gives her a heightened ability to guide people as they successfully tackle life's most emotional challenges.
###