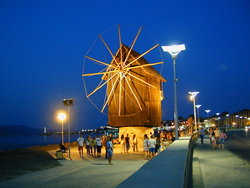 Bulgaria (PRWEB) July 14, 2008
How about spending a week on the Black Sea enjoying the sun, tasting local wine and cuisine, and admiring cultural landmarks dating back 1000 years. Ah, yes, and paying only 250 euro (about $400) per week for a spacious apartment overlooking the beach. What if you prefer mountain hikes, ski resorts, or would like to explore ancient monasteries? You can do that too. Bulgaria offers numerous beach and ski holiday destinations.
Bulgaria has a 200 km coastline on the Black Sea with variety of beach resorts. The most visited is Sunny Beach followed by Golden Sands - modern resorts with dozens of hotels and various entertainment options. Also, Nessebar and Sozopol are pure gems - ancient fishing towns with unique identity. The main ski holiday destination is Bansko followed by Borovets and Pamporovo, all within easy reach from the capital Sofia. You can also go off the beaten path to the picturesque old capital of Bulgaria - Veliko Turnovo and the marvelous village of Arbanassi next to it.
There are many hotels in each of these destinations. According to Tihomir Terziev from RentByOwnerBg, a leading rental website, you should also consider renting an apartment or a villa from a private owner. New developments are offered to tourists all over the country. In many cases the owners are English speakers from the UK and Ireland and language is not a barrier. The owners can provide valuable information about transportation options as well as tips on what to do when you get there.
What holiday properties are available and how much do they cost? According to the Bulgaria Holiday Rental market analysis by RentByOwnerBg, one bedroom apartments that sleep 4 are most common. However, there are plenty of studios as well as two and three bedroom apartments. One bedroom apartments in Sunny Beach cost about 300 euro ($450) per week in the high season (July and August) but there is large variation in prices - you can find an apartment for as little as 200 euro per week and for as high as 450 euro per week. Prices in the middle season (May, June and September) are 20 percent lower. Ski holidays are offered at similar prices with Bankso offering the greatest variety of holiday rentals.
###