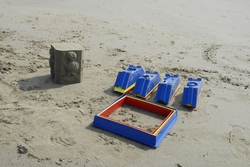 Hoboken, NJ (PRWEB) February 15, 2008
Jersey City, New Jersey-based SANDGOH, LLC., has announced plans to debut its namesake product -- Sand-Goh!™-- at the 2008 American International Toy Fair®, booth #6422, scheduled for February 17th - 20th at the Jacob Javits Center in New York, NY.
Sand-Goh!™ is a revolutionary new sand toy (Patents Pending) that combines building blocks and three-dimensional puzzle elements to inspire sandcastle construction and sand art, resulting in hours of creative and enjoyable fun for kids of all ages.
The 12-block building system of interchangeable 'mold blocks' allows children to create eight-inch high columns of sand - each with unique three-dimensional characters ornamenting its sides - by simply adding wet sand to the interior compartments of the Sand-Goh!™ blocks and then removing them to reveal impressive sand sculptures, according to Jerry Taufield, Founder and CEO of SANDGOH, LLC.
Children can arrange and rearrange the Sand-Goh!™ blocks both horizontally and vertically to change the final sand sculpture, assuring countless hours of creative and artistic fun.
"Sand-Goh!™ offers an exciting and completely new experience that can't be compared with traditional beach toys such as pails and shovels," says Mr. Taufield. "This innovative new toy encourages children to use their imagination, creativity and problem-solving skills while constructing any one of the 64 unique design combinations. Kids enjoy arranging the Sand-Goh!™ blocks and feel a great sense of accomplishment with the impressive sand art they create. What's more, the toy's attractive design and colorful red, yellow and blue palette, along with its interesting character molds, is captivating for both those playing with it as well as for spectators. There's not another product like it in today's marketplace."
Sand-Goh!™, which has been designed for use by girls and boys ages three and up, will retail for $29.99 and is scheduled to launch to the public on July 1st, 2008. Demonstrations and press kits will be available at the Sand-Goh!™ Booth, #6422, during the 2008 International Toy Fair.
For more information on Sand-Goh!™, please call 201-795-0932, e-mail info@sandgoh.com or visit http://www.sandgoh.com.
The American International Toy Fair® is the largest toy trade show in the Western Hemisphere and on average welcomes more than 1,500 manufacturers, distributors, importers and sales agents from 30 countries to showcase their toy and entertainment product. Show hours are: Sunday, February 17th 10:00 AM to 6:00 PM, Monday - Tuesday, February 18 - 19th, 9:00 AM to 6:00 PM, and Wednesday, February 20th, from 9:00 AM to 4:00 PM.
Contact:
George M. Cahn
President
CAHN Communications
201-876-3100
###