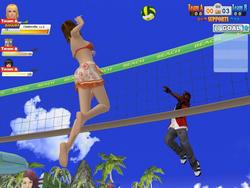 It's exciting to see the game progressing so quickly, and we can't wait to announce some of the new features we have in store coming soon
Portsmouth, NH (PRWEB) July 23, 2010
The latest upgrade to Beach Volleyball Online improves key in-game systems and enhances a variety of other features. Both the game engine and the artificial intelligence have been optimized. NPC character action has been vastly improved, as has the physics related to ball movement. Additional enhancements include tweaking item durability so items last longer before requiring repairs, and bringing back the popular sea shell collection mini-game. The game text has been improved in all areas including menus, tutorials, the character creation area, and in the item mall, which is now officially open.
"It's exciting to see the game progressing so quickly, and we can't wait to announce some of the new features we have in store coming soon", says Jonathan Seidenfeld, CEO of Omniverse Games. Beach Volleyball Online has been in open beta for about a month, and has attracted an extremely diverse and intensely loyal player community. The popular social aspect of Beach Volleyball Online is due in large part to the high level of character customization the game allows. Players can choose among hundreds of clothing items, hair styles, accessories, and even tattoos for their characters.
The new item mall allows players to flaunt their individuality in thousands of ways. Items can be purchased either with points earned in the game or with game cash, known as Beach Bucks. Payment transactions are handled by PlaySpan's UltimatePay system, which allows Beach Volleyball Online players across the world to purchase Beach Bucks using over 85 payment methods including mobile and cash-based options, as well as PlaySpan's Ultimate Game Card.
About Beach Volleyball Online
Beach Volleyball Online is a free-to-play Sports MMO. Players are immersed in an exquisite 3D world set in a lush beach side environment. The game incorporates the intense tactics and competition of real beach volleyball into a larger virtual world where players and their avatars can explore, socialize, and make new friends. BVO is one of the first true sports MMOs in that it features a large, stable persistent world, character development, exploration, and can be played however the player chooses to enjoy the game. Much more information including screenshots, videos, and an introduction to the BVO community can be found on the official BVO website and on the Facebook BVO Fan Page.
About Omniverse Games
Omniverse Games is a publisher of unique high quality online games specializing in the free-to-play with microtransaction business model. With offices in both Shanghai and Portsmouth, NH in the United States, Omniverse bridges the gap between East and West, and brings superior digital entertainment from Asia into Western markets. For more information about any of our games please visit the Omniverse Games website.
About Radiance Digital Entertainment
Radiance Digital Entertainment is a leading independent developer and publisher of online games including GoGo Racer and Beach Volleyball Online, both of which are published in various territories around the world. More information about Radiance can be found on the Radiance Digital Entertainment website.
###