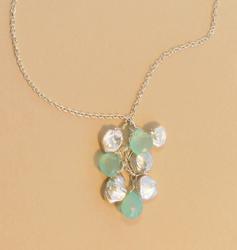 Boca Raton, FL (PRWEB) July 31, 2012
Beth Devine Designs, an online retailer for handmade wedding jewelry has announced a new discount this summer to help beach brides save on their bridal and bridesmaid earrings, necklaces and bracelets.
Starting today, brides shopping for bridal and bridesmaid jewelry for their beach or destination wedding will enjoy a 20% savings on their entire purchase. For a limited time, shoppers may simply use the promo code BEACHWEDDING at the time of checkout to receive their discount. The sale will run for two weeks, ending on August 13th, 2012.
More brides than ever are choosing a coastal beach setting or a beach theme for their traditional wedding. "Because the attire for a beach wedding is often much more casual than a traditional wedding, finding just the right bridal and bridesmaids jewelry can seem like a challenge for brides," says owner and designer Beth Devine "A great idea is to choose jewelry made with organic materials, like freshwater pearls, seashells and gemstones in colors that will tie in with the tropical surroundings."
Beth Devine Designs currently offers a wide selection beach jewelry that is inspired by sea life, the colors of the tropics and beautiful beach destinations. Perfectly suited for a beach or destination wedding, all beach bracelets, necklaces and earrings are handmade with an array of materials including natural seashells, mother of pearl, freshwater pearls and gemstones.
About Beth Devine Designs
Beth Devine Designs is based in South Florida and offers a selection of handmade designer jewelry that includes over 250 pieces of elegant and wearable jewelry. Designed and impeccably handmade to last a lifetime, an array of high-quality materials are used, including natural gemstones, genuine Swarovski crystal beads, freshwater pearls, sea shells and coral. Metals used include either sterling silver or 14k gold filled.
Since beginning in 2006, Beth Devine has expanded her collection to also include a special line of handmade wedding jewelry that includes bridal and bridesmaid earrings, necklaces and bracelets and beach wedding jewelry.
To view our entire collection of beach wedding jewelry, please visit Beth Devine Designs at
http://bethdevinedesigns.com/catalog/Beach_Inspired_Jewelry-10-1.html