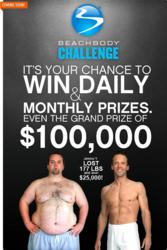 Through the Beachbody business opportunity, customers are paired with an Independent Beachbody Coach, who is not necessarily a health, fitness, or nutrition expert, but instead is someone just like them...
Denver, CO (PRWEB) May 30, 2013
During the Beachbody business annual Coach Summit, held next month in Las Vegas, NV, the grand prize winners in The Beachbody Challenge will be announced and rewarded with cash prizes of $100,000 (x 2) and $25,000 (x 2), but the Independent Beachbody Coach of each winner will receive the best reward of all…gratitude from their customer for the chance at a new and improved way of life.
Through the Beachbody business opportunity, the company matches each of their thousands of new customers with a Independent Beachbody Coach, who is not necessarily a health, fitness, or nutrition expert, but instead is someone just like them – a Beachbody customer working to improve their own lifestyle. This system creates a win-win situation by giving Beachbody's new customers one-on-one support and motivation from someone already familiar with their products and services, while the Independent Beachbody Coach is compensated through commissions on their customer's purchases.
People start a Beachbody Business for several reasons, and to save money on all of the company's products is a perfectly legitimate one. In fact, one reason Beachbody created the Coach membership in the first place, was to offer a discount to their loyal customers. The second reason was because the majority of their new sales were coming from personal referrals, and Beachbody being the ethical company they are, wanted to compensate those satisfied customers for telling their friends and family members about their products and services.
The Beachbody business opportunity works, it benefits both customers and Coaches, and the Beachbody Challenge is the ultimate proof of this. People can win hundreds or thousands of dollars for getting healthy and fit, and Coaches are rewarded for their help and dedication in changing lives for the better.
About the Beachbody Business Opportunity &Team Unity
Team Beachbody® is the direct marketing division of Beachbody, which is known for their top selling health and fitness products such as P90X®, Insanity®, TurboFire®, Shakeology®, etc. The Beachbody direct marketing opportunity is unique, in that the parent company runs television infomercials and massive marketing campaigns in order to enroll new members, customers, and Beachbody Coaches for their representatives to earn from.
Team Unity is a group of Independent Beachbody Coaches and Team Leaders, who have developed a step-by-step training system and interactive support group, in order to ensure their team members have the opportunity to succeed as an Independent Beachbody Coach.
Contact:
Holly Blochowitz, Team Unity Leader & Co-Founder
Independent Star Diamond Beachbody Coach
holly(at)beachbodycoach(dot)com
Beachbody does not guarantee any level of success or income from the Team Beachbody Coach Opportunity. Each Coach's income depends on his or her own efforts, diligence, and skill. See our Statement of Independent Beachbody Coach Earnings for the most recent information on our Coaches' actual incomes.