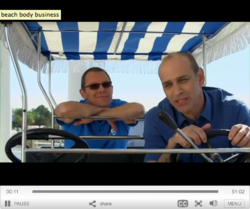 Those who become Beachbody coaches are rewarded emotionally and financially for helping people get healthy; and Saturday's message was not missed by the Beachbody Coaches and Leaders of Team Unity.
Denver, CO (PRWEB) April 30, 2013
The second Super Saturday of 2013, was recently held across the United States and Canada, in order that Beachbody Coaches could come together to celebrate the past, and prepare for the future of their Beachbody business.
The first announcement of the day was the "Commitment Challenge", which was designed to encourage Coaches to invite people to Beachbody Challenge Groups with confidence, and to exceed their Personal Development Goals. This led to a reminder that the recipients of the Beachbody Financial Freedom Awards, which celebrate Coaches paying off debt, will be honored at the Beachbody Summit in June. Beachbody Coaches can be confident, that it is okay to be rewarded financially for inspiring and helping people to get healthy!
The highlight for Shaun T fans though, was the announcement of his new Focus T25™ fitness program, set to be released during the Summer of 2013. Focus T25™ will be a complete workout in only 25 minutes, 5 days a week, with no breaks. It is comprised of a 3 phases: Alpha, Beta, Gamma; and can be modified for people of all fitness levels. According to Beachbody corporate, the test group results for Shaun T's Focus T25™ are off the chart.
The second half of the event consisted of tips from Elite Coaches, and emotionally moving stories of how people are going from broke, and in-debt, to being able to quit their jobs and stay home with their kids – all because they decided to become Beachbody Coaches.
About the Beachbody Business & Team Unity
Team Beachbody® is the network marketing division of Beachbody, which is known for their top selling health and fitness products such as P90X®, Insanity®, TurboFire®, Shakeology®, etc. The Beachbody MLM is unique, in that the parent company runs television infomercials and massive marketing campaigns in order to enroll new members, customers, and Beachbody Coaches for their representatives to earn from.
Team Unity is a group of Independent Beachbody Coaches and Team Leaders, who have developed a step-by-step training system and interactive support group, in order to ensure their team members are very successful in the Beachbody business opportunity.
Contact:
Holly Blochowitz, Team Unity Leader & Co-Founder
Independent Star Diamond Beachbody Coach
holly(at)beachbodycoach(dot)com
Beachbody does not guarantee any level of success or income from the Team Beachbody Coach Opportunity. Each Coach's income depends on his or her own efforts, diligence, and skill. See our Statement of Independent Coach Earnings for the most recent information on our Coaches' actual incomes.