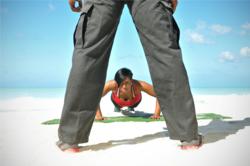 BOLANS VILLAGE, Antigua (PRWEB) January 09, 2013
Jolly Beach Resort & Spa has partnered with Antigua's "Insane Boot Camp" to offer an extreme workout for guests to kick start or bump up their health and fitness efforts in a stunning Caribbean setting. The five-day Insane Beach Body program challenges "campers" to push their mental and physical limits embrace the aches and pains and come back for more.
Insane Beach Body training is part of the resort's new "Get into the Beach of it" fun and fitness program for 2013 and will launch at Jolly Beach Resort & Spa, April 25-29, 2013. The air/land package for a stay at the hotel during this period, through tour operator Travel Impressions, is at a cost $1,608 per person (based on double occupancy) including air on American Airlines from New York, JFK and at $1,685 per person (based on double occupancy) including with air on American Airlines from Miami, MIA. (Pricing is based on NNX5C1Q1 fare basis and ticketing must be completed within 3 days after reservations are made and at least 14 days before departure, whichever is earlier. Baggage fees are not included and additional packages are available at a higher cost. Additional terms and conditions apply, please call for details.
The course will be repeated August 2-8 and November 15-19. (Cost for additional dates varies.) The camp itself requires a registration fee of US$150.00 per guest, payable to the hotel directly. The fee includes the five-day fitness program, a boot camp shirt and water bottle, a welcome cocktail and a therapeutic 30-minute massage.
The mile-long beach at the resort is a heavenly setting for a devil of a workout for the beginning of this Insane program that also shows off the scenic side of Antigua guests otherwise might not get to see. The first morning challenge is Socarobics, a dynamic blend of basic exercise movements mixed with the hottest Soca music from the Caribbean for the ultimate full-body cardio workout.
Boot campers will bask in the best light of the day with a 5:00 a.m. call for Day Two's Insane Fitness Challenge. They'll hit the resort's white sand for core conditioning, agility drills, abdominal toning, cardiovascular exercises and more. After a day of rest and massage, the Insane former military instructors lead a 12-mile hike to Mount Obama, Antigua's highest point on Day four.
Participants will be rewarded with one of the most beautiful scenes in Antigua when they complete a 10-mile hike to the famous Shirley Heights on Day Five. The challenge will begin at Wallings Dam a reservoir surrounded by lush forest of rare trees and bird life and ends at the most southerly tip of Antigua, a formerly military complex commanding a panoramic view of the famed English Harbour.
When the daily Insanity ends, participants can relax and enjoy the extensive facilities and activities programs at this all-inclusive resort. They can take to the blue Caribbean Sea in kayaks, windsurfers, Hobie Cats and pedal boats and hit the beach for cricket, volleyball and sun worshipping. A variety of evening entertainment includes live bands and cultural shows and a casino owned and operated by King's Casino, operator of casinos in Antigua since 1988.
All-Inclusive rates include accommodation, all meals, snacks and afternoon tea, house brand beverages, non-motorized watersports, activities, Jolly Kidz and Teenz Clubs, use of the gym, nightly entertainment. and all taxes and service charges. Spa and beauty treatments are not included.
For more information and reservations call toll free at 1-800-284-0044, or visit: http://www.travelimpressions.com.
About Jolly Beach Resort & Spa
Jolly Beach Resort & Spa, on Antigua's best beach by a mile, offers year-round value and is popular for destination weddings, honeymooners and families. The resort offers its signature all-inclusive rate plan as well as a room-only option for budget-friendly accommodations. Exceptional Value. Excellent Service. Everything vacationers expect and more at Jolly Beach Resort & Spa.
About Travel Impressions
Founded in 1974, Travel Impressions is one of the nation's largest leisure tour operators and a wholly owned subsidiary of American Express. The company offers FIT vacations to over 200 destinations in the Caribbean, Mexico, Central and South America, China, Europe, the Eastern Mediterranean, Dubai, South Africa, Australia, New Zealand, Fiji, the Islands of Tahiti, Canada, Hawaii, Alaska and the Continental U.S., and features more than 2,800 resorts, hotels and luxury villas. Travel Impressions has received multiple industry awards for outstanding customer service, best overall operations, best technology, most knowledgeable reservations staff and leading marketing materials – all dedicated to better serving travel agents and their clients.