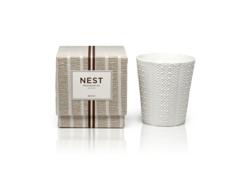 My new fragrance, Beach, reminds me of brilliant, tranquil turquoise waters and ocean breezes…it transports me to where I want to be most of the time.
New York, NY (PRWEB) April 25, 2012
NEST Fragrances, a leading luxury home and personal fragrance manufacturer, today announced the introduction of its new seasonal Beach Collection for summer 2012. Housed in white, handmade porcelain containers inspired by the natural and elegant beauty of sea urchins, Beach features a fresh, aquatic fragrance – a first for the NEST Fragrances Collection. Launching in a Candle, Reed Diffuser, Liquid Hand Soap and Bar Soap Gift Set, Beach will be available for purchase at Neiman Marcus, Saks Fifth Avenue, select luxury boutiques nationwide, and on shop.nestfragrances.com in April.
"My new fragrance, Beach, reminds me of brilliant, tranquil turquoise waters and ocean breezes…it transports me to where I want to be most of the time," said Laura Slatkin, fragrance expert and founder and CEO of NEST Fragrances. "I cannot wait to bring the collection to East Hampton; the sea urchin-inspired vessels will look so beautiful in our home. My Beach Collection is the perfect summer hostess gift!"
The Beach Collection's fragrance captures the essence of sparkling turquoise water and lush coconut married with juicy melon and a luminous base of lotus flower and sensual woods. The refined handmade porcelain containers are polished with a luxurious bisque finish and presented in unique gift boxes that are wrapped with a contrasting texture of fine, mesh linen over a natural-colored paper.
The Beach Collection includes (all prices SRP):

Classic Candle – 8.1 Oz. (230 g) for $48
Reed Diffuser – 6 Fl. Oz. (177 mL) for $54
Soap Set – One bar soap and soap dish for $42
Liquid Hand Soap – 10 Fl. Oz. (300 mL) for $22
EDITORS: To obtain product samples and high-resolution images, please contact Tim Rossi (contact information above).
About NEST Fragrances
Founded and owned by Laura Slatkin, NEST Fragrances (NEST) is a specialized home fragrance company that emerged from its parent company, Slatkin & Co., after it was acquired by Limited Brands, Inc. Laura has a long-standing reputation as a leader in the home fragrance industry and is well-known for her luxurious scented candles, room sprays, diffusers and other essentials for rooms and environments. NEST's client list currently includes more than 70 prestige companies in the fashion, beauty and home fragrance industries – all of whom turned to NEST to develop their own exclusive line of home fragrance products. In 2008, Laura launched her own home fragrance collection, NEST Fragrances, which won the 2009 FiFi Award for Interior Scent Collection of the Year. NEST draws on decades of experience in the home fragrance industry with a special expertise in designing, developing, producing, distributing and marketing home fragrance collections that capture each client's unique brand image and style. For more information, visit http://www.nestfragrances.com. NEST can also be found on facebook and Twitter.