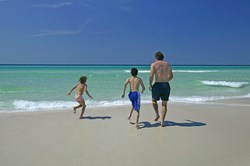 Walton County, Fla. (PRWEB) July 13, 2009
Families are making adjustments in the current economic climate, whether using credit card rewards points and frequent-flier miles or traveling shorter distances, to keep their summer vacations on the schedule. Summer getaways are too important to travelers' mental health to give up all together according to the most recent American Express travel agent survey.
As families weigh their vacation options, they are looking for quality and affordability, and other ways to get more value for their hard-earned money. Beaches of South Walton, a collection of 15 beach communities located along Northwest Florida's Gulf Coast has an array of affordable activities, all free or under $10. Coupled with creative packages offered by area hotels and rental agencies, families can enjoy the summer vacations they deserve.
Top Activities Under $10
Eden State Gardens
Eden State Gardens is tucked away in historic Point Washington on the shore of Tucker Bayou, is a beautiful turn-of-the-century mansion. Guided tours of the Wesley Mansion are offered Thursday through Monday, and families can picnic on the grounds surrounded by azaleas, camellias and towering Spanish moss-draped live oaks . $3 vehicle entry fee and $3/per person to tour the Wesley Mansion.
Topsail Hill State Preserve
Topsail Hill State Preserve, identified as the most pristine piece of coastal property in the state of Florida, features 1,600 acres of stunning gulf front pine forests, nature trails over mountainous sand dunes and two coastal dune lakes. Enjoy programs with a park ranger on Saturday mornings such as Breakfast with a Ranger, Marine Invertebrates, Endangered Beach Mouse, and Beach Finds: Trash or Treasure. $2 vehicle entry fee.
Outdoor Concerts/Performances
Enjoy one of the many evening film screenings and performances such as "Moonlight and Movies" in Rosemary Beach, "Wednesday Night Concerts" at the Village of Baytowne Wharf in Sandestin, "A Stone that Sings" in Seaside or "Go Dog Go" at Marina Park Amphitheatre in WaterColor.
Bird Watching
With more than 40 percent of Beaches of South Walton preserved with state parks and forests, some of the nation's most endangered species call this area home. Stop by the Visitor Services Center for a list of birds that can be found in Beaches of South Walton, and then hit the trails to catch a glimpse of some indigenous, migratory and rare species.
Timpoochee Trail
Bring your bike or head out on foot to enjoy this 19-mile paved path. The paved trail skirts state recreational areas, state parks, dunes and coastal dune lakes.
This summer Beaches of South Walton is offering value-filled packages for all types travelers, from family vacationers to weekend adventurists. For a full list of packages or more information on the destination, please visit http://www.beachesofsouthwalton.com or call 1-800-822-6877.
###