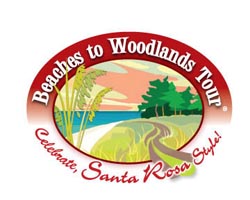 Hotel Room Rates in NW Florida for As Low As $59.95 Per Night w/ TripShock.com!
Santa Rosa Beach, FL (PRWEB) October 05, 2012
This year in Santa Rosa County, Florida TripShock.com is helping to support the 9th annual Beaches to Woodlands Tour by offering phenomenal hotel room rates and discounted activities/attractions for all to enjoy.
For the 9th year in a row, both visitors and locals have the chance to discover the diversity of Santa Rosa County during the 9th Annual Beaches to Woodlands Tour, which will be held each weekend during October 2012.
The self-guided tour showcases arts & culture, heritage, and nature-based venues along a route peppered with fun-filled festivals, seasonal foods, and adventurous activities from the sugar-white beaches along the Gulf of Mexico up through historic riverfront districts in Florida's Canoe Capital and into vast farmlands surrounded by one of Florida's largest state forests, Blackwater River State Forest.
TripShock.com is the #1 travel agency designated to the Northwest Florida region. During the entire month of October, TripShock is promoting Hotel Rates for As Low As $59.95 Per Night.
Visit http://www.TripShock.com for the lowest hotel rates and discounted outdoor activities/attractions in Destin, Santa Rosa County, Panama City Beach and many more.
About TripShock.com
TripShock! ® is the one and only online travel agency in the Northern Gulf Coast that enables travelers to book tours and activities directly. TripShock! offers trusted reviews from real travelers, photos, videos and other planning tools to help create the perfect Gulf Coast vacation. TripShock! attracts more than 500,000 visitors annually and partners with over 100 activity and lodging providers from Florida to Louisiana