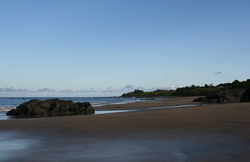 Pedasí, Panama (PRWEB) January 12, 2009
Dekel Panama S.A. is pleased to announce the availability of a unique beachfront real estate investment property in Pedasí, Panama, the country's most vibrant upcoming region.
A total of 40 hectares (99 acres) of land are now on offer just minutes outside the charming town of Pedasí, situated on the edge of Playa Toro, with sweeping views of the Pacific Ocean and Isla Iguana.
The parcel includes some 500 meters (1650 feet) of waterfront overlooking the sandy beach. The gently sloping terrain maximizes ocean views while offering ideal building platforms across 90% of the property. The lot is also fully equipped with road access, water and electricity, and all soil studies have been completed.
This piece of land is now available for sale in its entirety, or in lots of five, ten and 20 hectares. Starting at just $20 per square meter, this Panama investment opportunity is unparalleled for investors looking for high-quality beachfront property.
The parcel lays adjacent to the Andromeda Country Club, Pedasí's first luxury vacation community, featuring gracious beachfront villas and condominiums complemented by extensive recreational facilities, green areas and modern amenities. It also lies just 500 meters from the Costa Pedasí gated community and Ranch Pedasí, and only 1.2 kilometers from the town of Pedasí itself.
This makes it perfectly suited to a diversity of development options, including hotel, resort, villas, condominiums, or other project suited to the thriving tourism and vacation development the area is now undergoing.
Panama real estate has been the subject of intense interest in recent years, thanks to strong incentives and few restrictions for foreign investors. Panama City has undergone enormous development, while outside the capital, areas like Boquete and Bocas del Toro have become favored sites for several vacation and residential communities.
Located at the tip of the Azuero Peninsula, the Pedasí area is also undergoing a boom in development. Known for its colourful traditions, rousing carnivals and long stretches of pristine, sandy beaches, the peninsula is attracting the attention of international investors and celebrities eager to take advantage of unspoilt tropical real estate.
Because Panama allows titled property right up to the waterfront, the few remaining beachfront parcels are being snapped up at a dizzying rate. The Pedasí area in particular offers some of the best sport-fishing in the country, world-class surfing breaks, rich biodiversity in national parks and conservation areas, and dozens of untouched beaches along its coasts.
Thanks to these factors and Panama's strong and growing economy, favourable investment climate, stable government and modern infrastructure, investors will not want to miss out on this unprecedented opportunity.
About the Developers
Dekel Panama S.A. is one of Central America's up and coming development groups, offering fresh vision and energy to the region's hottest real estate investment and vacation properties.
With experience in the Middle East, the U.K., and Costa Rica, the group brings international experience in real estate development, business and finance to Panama's burgeoning property development market.
Exceptional quality is the cornerstone of Dekel's development philosophy. Using the latest technologies, finest materials and environmentally conscious designs, Dekel strives to create properties of the highest quality.
Combined with a keen flair for the newest property markets, and strong business integrity, Dekel Panama offers ground-level entry to Panama's most exclusive vacation-home communities, ensuring client and shareholder satisfaction alike.
###