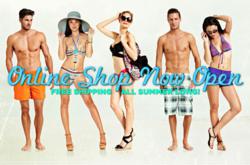 Southern California surf and swim apparel brand, Beach Rays is pleased to announce the launch of their first online store.
(PRWEB) June 21, 2012
After a decade of crafting high quality surf apparel and swimwear, Southern California's Beach Rays, launched their online store today on BeachRays.com, with six new Summer 2012 collections: Beach Rays, Ray, VAST, WET, RayRay and VroomVroom.
Together with affiliate manufacturing giant QMI, J.Y. Rays has offered an extensive line of sought-after surf and swimwear for men, women, children, and professional athletes, with a keen eye for contemporary design and an embrace of technological innovations and materials since 1992. In 1998, J.Y. Rays formed the "Beach Rays" label and 14 years later, the Beach Rays family has grown exponentially. Now boasting multiple brands and offering a variety of swim and surf wear options - they proudly serve specialty stores, major outlets, and private label clients worldwide.
More about the brands:
Beach Rays:
Created for men, women and children seeking quality boardshorts and swimwear, Beach Rays offers both great fit and high performance. With clean lines and classic, fashionable designs Beach Rays offers a look that is perfect for all water sports.
WET:
Swimsuit collection WET showcases a variety of modern and refined feminine looks, drawing its inspiration from sophisticated European style.
VAST: The ever evolving mens label VAST experiments with the innovative and technically advanced fabrics and materials, creating unique pieces, which utilizes everything from 4-way and 2-way stretch fabrics, to the higSiest-grade premium microfibers available.
Ray:
With a variety of contemporary designs for women, Ray brings the sleek look of the runway straight onto the beach.
RayRay:
Featuring an array of vibrant colors and vivid, youthful prints, RayRay brings surf wear tradition to a whole new generation, adding cute, girlish details to comfortable, functional designs.
VroomVroom:
Beach Rays' boys collection VroomVroom, features energetic prints and playful designs that are perfect for a wide range of ages, from the comfortable nylon spandex briefs for the toddlers to the traditional microfiber board shorts and swimming trunks for boys.
Get 15% off your total purchase on beachrays.com. Use promo code: summer2012. Code expires on June 30, 2012.