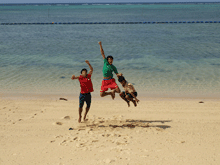 We're really proud to be known as one of the premier foreign worker placement companies in Japan.
Melbourne, Australia (PRWEB) April 08, 2013
Okinawa has long been a favourite destination for those sun-loving Japanese vacationers aware of its year-round tropical beaches; but this year, foreign workers appear to have caught on to the trend. The recruits for beach resort work in Japan this summer have jumped considerably, as director of boobooSKI Adam Claydon-Platt explains, "Because of the unique cultural experience and number of activities to do in Okinawa, our summer resort staff intake for May 2013 has more than doubled compared to last year. We're expecting even larger numbers in the coming months."
Time and cost play key parts in whether or not someone can truly experience what it's like to live abroad. The expense of extended visits, hassles of visa requirements, along with a long list of other factors often hinder a traveller's ability to be completely immersed in another culture.
Luckily, companies like boobooSKI take away most of the frustrations foreigners experience trying to get work in Japan, allowing them to come aboard and simply live like a local. Recruiting staff from around the world for both winter and summer positions, boobooSKI has become a trusted and respected name among Working Holiday Makers in Japan.
For people interested in working this summer, Okinawa has become a top preference, as company director Adam says "Okinawa is a tropical paradise, like what Hawaii is for America or perhaps what Bali is to Australia. It's taken a lot of time and care for us to make inroads into this amazing culture, and we're proud to be staffing resorts there."
Adam explains how the popular Japanese tourist destination has both cultural and historical attractions, as well as many summer activities like diving, snorkelling, jet skiing and kayaking. What's more, the laid back Okinawa residents make it easier for boobooSKI's staff to "make friends and integrate into the local society. Overall, it's just an amazing experience for our team. They get to work, eat, drink, and sleep the Japanese lifestyle while having a whole lot of fun in the sun."
The manifold attractions of Okinawa have been credited for boobooSKI's bolstered staff numbers with "more than twice as many summer recruits coming on now as the same time last year. We're expecting even larger intakes for June and July." Adam also says he's been able to accommodate the increase in numbers because "employers know our recruits are respectful and eager to be a part of their culture, which is essential when working in Japan."
As part of their renowned services, boobooSKI offers access to the best beach resort work in Japan, assistance with airfare, visas, and insurance, as well as 24-hour support throughout their staff's entire stay. Uniting their personalised support with the enticing tropical beaches of Okinawa, it's clear why recruits have more than doubled this summer. Adam finishes by saying, "We're really proud to be known as one of the premier foreign worker placement companies in Japan. We continually strive to provide the highest level of satisfaction to both employers and staff, while making their experience as smooth and enjoyable as possible."
To learn more about beach resort work in Japan click here, or to find out more about Japanese working-holidays visit: http://www.boobooski.com/
About boobooSKI
boobooSKI have taken their passion for Japan to innovate working and studying abroad. They help young people from around the world secure paid work in the country's popular beach and ski hotels and resorts.
Their more recent Internship programs were created for the promotion of mutual understanding and friendship between Japan and other countries; as well as to encourage students of various degrees to improve their knowledge and skills by experiencing first-hand the internationally renowned Japanese work ethic, culture and approach to service.
To learn more about Japanese Internship opportunities, click here.