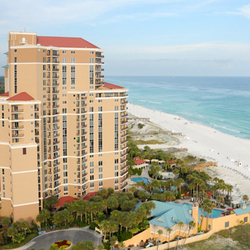 Our attendance is up this year
Destin, FL (Vocus) June 15, 2010
More than 15 professional groups and associations are expected to come to the Gulf Coast and Sandestin Golf and Beach Resort Florida, to hold meetings this month, it was announced today.
Group meetings and family getaways at Sandestin's Florida meeting facilities and family resort have long been a tradition here. The recent events in the Gulf of Mexico and the BP Deepwater Horizon oil spill appear not to be curbing plans for thousands of travelers coming to the Destin, Florida area and the Beaches of South Walton. Comments from guests and group leaders include:
"Our attendance is up this year," says Ms. Teri Dingler of the Alabama Society of Otolaryngology, whose group is arriving today. "Members sent around an email listing of local restaurants and look forward to dining on fresh seafood. Our members are excited, not fearful."
"Before arriving, I loved watching the beach cam" (http://www.sandestin.com/beachcam).
"We arrived yesterday and there are just as many people here as the past," said Ms. Melissa Williford of the AL Veterinary Association, a group that is currently meeting at Sandestin.
According to Randal Ward, CAE, executive director of the Automotive Aftermarket Association of the Southeast, there is no difference in our experience this year from years past. "Last night I was in the Village and experienced lots of people enjoying themselves. Sandestin has so much to offer from the Beach to the Bay. Our members enjoy all of the major activities here at the resort. The golf courses are beautiful, the Bay is gorgeous and the Beach is open. It is time for us to stand up and support those on this beautiful coast, Sandestin and our partnership."
Morgan Geoghagan, an attendee coming to a Mississippi association meeting said on Sandestin's Facebook page, "I'm coming in late June and can't wait! There is so much to do including music at The Village, world class golf courses, tennis courts, bicycle riding and more. It's truly a unique place that I look forward to going to every year."
In addition to these comments, Sandestin is receiving other words of support from guests across the country. "Nothing is going to prevent us from visiting Sandestin for our 24th straight year," said Sandestin guest Bruce Morris. Another fan, Jay Boykin, said, "We're coming no matter what. Your amenities are important to us."
For more information, visit http://www.sandestin.com or call 1-877-870-5915.
About Sandestin Golf and Beach Resort
Rated the #1 Resort by Emerald Coast Magazine, Sandestin Golf and Beach Resort Florida is one of the most complete resort experiences in North America for all ages. With 2,400 acres, Sandestin invites guests to enter a world of 30 charming neighborhoods, 1,500 villas, town homes and a wide variety of hotel accommodations. In addition to four championship golf courses and 15 tennis courts, the resort features 19 swimming pools, a 98-slip marina, a fitness center and spa, 65,000 square feet of meeting space and The Village of Baytowne Wharf, a pedestrian village with shops, casual and fine dining restaurants and nightlife.
# # #