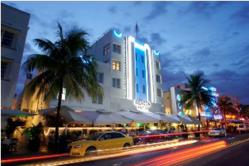 We feel that as a member of the Miami Beach community it is our duty to give back, so we created the Friends of South Beach Group to accomplish this, says Elvis Taylor, General Manager
Miami Beach, FL (PRWEB) March 28, 2012
Beacon South Beach Hotel has always believed in making an impact - "the smallest good deed is better than a thousand grand intentions." Striving to give back to the core charities that have made a large impact to Miami Beach, the Beacon Hotel is contributing to its guests through a variety of community fund raising programs.
Currently the Beacon Hotel is dedicated to making Friends of South Beach (FOSB) the biggest community in South Beach. The Friends of South Beach (FOSB) Foundation provides support to community-based organizations that promote education, health and social responsibility.
Monthly Give & Receive on FOSB
Each month, the Beacon South Beach Hotel donates a 2 Night Weekend Stay with all proceeds going to FOSB charity of the month. The winning bidder will enjoy 2 nights* at the Beacon Hotel South Beach. All guest of the Beacon South Beach Hotel also enjoy the following:
Five Diamonds Guest Service
Complimentary Continental Breakfast
24-Hour Business Center & Fitness Center
Restaurant and Bar
24-Hour Valet Parking
Complimentary in-room beach towels and chairs
Complimentary high-speed wireless Internet access
Concierge services
All members of Friends of South Beach will enjoy additional perks on their stay at the Beacon Hotel such as:
Early Check In & Late Check Out**
2 Complimentary Mojitos
10% of your stay goes to the "Charity of the Month"
*Valid through 12/31/2012. Two complimentary night stay. Not valid during special events and holidays*
**Subject to Availability
The Beacon Hotel is focused on pairing different charity organizations to encourage people to donate, support or volunteer. If you wish to contribute, contact Beacon South Beach Hotel to become a charity partner. For more information, please feel free to visit:
http://www.beaconsouthbeach.com
About Beacon South Beach Hotel
With its seven miles of sand and surf, unrivaled nightlife, premier shopping and exquisite cuisine, the Beacon Hotel is a premier vacation destination in South Florida. This beach front Property is located on 720 Ocean Drive; the Beacon South Beach Hotel blends timeless elegance of the Art Deco era with the modern chic decor of South Beach and offers luxury accommodations, gourmet dining, deluxe spa amenities and personalized concierge services to each of its guests.
###