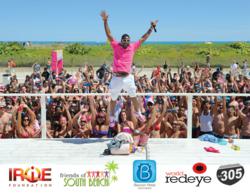 This is our first calendar but we intend to release this every year, all for a good cause and we are happy we are doing our bit. We encourage everyone to buy this calendar and contribute to the IRIE Foundation." says Chris Regalado, Revenue Manager
Miami Beach, FL (PRWEB) February 17, 2012
On February 02, 2012, the Beacon South Beach Hotel, Miami released their newly designed 2012 South Beach Charity Calendar that marks the debut of collaboration between two non-profit bodies namely: IRIE Foundation, an organization that is committed to improving the lives of South Florida youth through educational and extracurricular opportunities and Friends of South Beach, the charity fundraiser arm of the Beacon Hotel on Miami Beach.
Designed with a noble cause, the new 2012 South Beach Charity Calendar includes all the important events and holidays in Miami this year and even includes free gifts and weekend stay offers at Beacon South Beach Hotel.
"We have always been committed to giving back to the Miami Beach community. With our incentive gifts tucked inside this Calendar, we are happy to give away free weekend stays for some of the few lucky ones. This is our first calendar but we intend to release this every year, all for a good cause and we are happy we are doing our bit. We encourage everyone to buy this calendar and contribute to the IRIE Foundation." says Chris Regalado, Beacon Hotel's Revenue Manager.
Started through a Facebook Application, 2012 South Beach Charity Calendar gained a lot of attention from individuals and participants all over Miami. Some of the leading models and photographer including Derick G volunteered for the 12-month calendar shoot and most of the clothes that models wore have been donated by the leading clothing companies, including Sol de Mar and internationally known brands like T.I.Ts. The calendar features all the key places, locales and entertainment in Miami and is a great keep for all those who are looking to remember their time on Miami Beach. Interested people can buy the calendar and the proceeds will go to IRIE Foundation.
Beacon Hotel South Beach always strives to give back to the community and invests heavily in Friends of South Beach program, an initiative taken to support local charities. Likewise, IRIE Foundation is determined to raise money to encourage school scholarship for deserving middle and high school students. Their combined contribution has resulted into a full blown 2012 Charity Calendar, which is now available to purchase online: at http://www.friendsofsouthbeach.com and for sale at the Beacon Hotel, located at 720 Ocean Drive, Miami Beach FL, 33139 or by calling 305.674.8200.
For more information, please visit: http://www.friendsofsouthbeach.com/
###