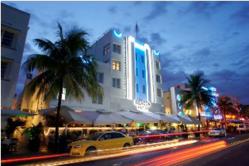 We are very proud that we are able to contribute to World Vision by participating in the ING marathon, said Elvis Taylor, General Manager of the Beacon Hotel
Miami Beach, FL (PRWEB) February 04, 2012
Running For A Good Cause - Beacon South Beach Hotel sets an example yet again. The Beacon South Beach Hotel has always been on the forefront for charity. On January 29, 2012, one of the Beacon's team members ran the 2012 Miami ING Marathon to help raise money for donation. The funds raised by the Beacon will be generously donated to World Vision.
2012 ING Miami Marathon
The eyes of the world were focused on the main event of this past weekend - the ING Miami Marathon. Friends, family and curious spectators lined up along the 26.2 miles of roadways filled with inspiring sights and sounds to cheer on the many that chose to run the Miami ING Marathon.
The 26.2 mile course started and finished in the same general area. The race started heading north in front of the American Airlines Arena (Official home of the Miami Heat). Runners finished heading north adjacent to Bayfront Park which is only 4 blocks south of the start line, also known as the intersection of Biscayne Blvd & E. Flagler Street.
Beacon – Committed To Serve the Society, Serve the People
This year, Beacon Hotel had one team member, Alvaro Chaparro run the half marathon, 13.1 miles of ING Marathon on Sunday, Jan, 29 with a final time of 2hours and 22 minutes. Spearheading with generosity and care for the community, Beacon South Beach Hotel is committed to serve society and play its part by donating the monies raised at the Beacon to World Vision, a humanitarian charitable organization that encourages child sponsorship to help needy and poor children. Time and again The Beacon hotel has taken such initiatives to contribute to the society.
About The Beacon South Beach Hotel
The Beacon South Beach Hotel is a luxury hotel with cozy bedrooms, awe inspiring views, an exotic restaurant and high-tech business amenities.
Flaunting a fusion of cosmopolitan and Art Deco influences combined with beach front elegance and top-notch amenities for the premier beach luxury hotel experience, the Beacon South Beach Hotel is a place where guests can enjoy exceptional hospitality and lodging accommodations in a convivial and comfortable setting.
For more information, please visit: http://www.beaconsouthbeach.com
###