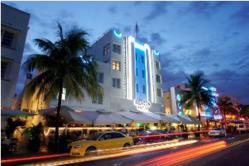 We feel that our "Stay Longer, Save More" package is a good way to reward those guests which extend their stay at our South Beach Hotel, says Sales Manager, Chris Regalado
Miami Beach, FL (PRWEB) May 16, 2012
Now visits to South Beach can become even more exciting as travelers can save more when they stay at the Beacon Hotel. With travel dates May through November 2012, the hotel is offering special prices for longer stays. Stay for 2 or more nights and get attractive discounts at the Beacon Hotel.
Ranked #22 among all Miami Beach Hotels on TripAdvisor, Beacon Hotel South Beach is a very popular, luxury art deco hotel at the shores of Miami's sexiest beach, South Beach. With infinite views of the Atlantic and historical sherbet-colored Art Deco architecture, Beacon Hotel forms a perfect summer beach destination and a paradise for all Miami Beach lovers.
When guests stay at the Beacon South Beach Hotel, they get miles of sun, sand and sea and everything in between. Enjoy luxury accommodations with chic modern deco, gourmet dining, deluxe spa amenities and personalized concierge services. Visitors can access miles of pristine beach to the east and trendy shopping and nightlife to the west.
Travel dates: May - November, 2012
Booking dates: May 2012
Special Offers:
•Stay 2 Nights, Get 10% Off your stay - Promo code: 2N10
•Stay 3 Nights, Get 15% Off your stay - Promo code: 3N15
•Stay 4 Nights, Get 20% Off your stay - Promo code: 4N20
•Stay 5 Nights, Get 25% Off your stay - Promo code: 5N25
Enjoy The Summer Specials at Beacon South Beach
Enjoy the splendid interiors, magnificent views and exquisite cuisine in this stylish Miami Beach hotel. Relax as the sun goes down, sample the finest delicacies and enjoy the lively bars and live entertainment while staying at the Beacon South Beach Hotel. The Beacon Hotel ensures the quintessential sense of comfort and guarantees its guests unforgettable moments of joy and fun during their summer holiday.
About The Beacon South Beach Hotel
Beach loving, festive, sophisticated, successful and trendy are the five words that best describe The Beacon Hotel South Beach, an ideal combination of relaxation, pampering, enjoyment and five diamond guest service. Enjoy special prices and save more when staying right here at the Beacon Hotel, in Miami South Beach.
Hotel Amenities include:
•Complimentary Full breakfast
•On-site restaurant and bar
•Room service available
•Complimentary beach chairs & towels
•Hot breakfast features Belgian waffle
•Free WiFi
•24-hour business center
•24-hour fitness center
For more information, visit: http://www.beaconsouthbeach.com