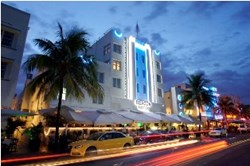 We are proud to join many other organizations across the country in doing our part to help reduce these numbers and, one day, make breast cancer part of our history – not our future."
Miami Beach, FL (PRWEB) October 17, 2013
As part of its commitment to giving back and demonstrating social responsibility, South Beach's luxury boutique Beacon Hotel announced today that during October's Breast Cancer Awareness Month, it will proudly donate 10% of all proceeds booked via its new "Pink" package to support breast cancer research.
The promotion, which will last until October 31, 2013, is part of a wider monthly campaign that will see Beacon Hotel's staff wear special pink uniforms, and provide guests and visitors with a variety of materials to help increase their awareness of breast cancer facts, risks and other essential issues.
"It's almost impossible to find someone who has not been affected by breast cancer in some way -- personally or through a family member, friend or colleague," commented Chris Regalado, Beacon Hotel's Revenue Manager. "According to the American Cancer Society, more than 230,000 cases of invasive breast cancer will be diagnosed this year, and of those, nearly 40,000 women will die as a result of the disease. We are proud to join many other organizations across the country in doing our part to help reduce these numbers and, one day, make breast cancer part of our history – not our future."
Guests who want to join Beacon Hotel in support of breast cancer awareness can check availability and book their stay online at http://www.beaconsouthbeach.com/pink-package.htm. While visiting the website, guests can also browse high resolution photos, watch video tours, read reviews, and more.
For more information or media inquiries, contact Christopher Regalado, Revenue Manager, at chris(at)beaconsouthbeach(dot)com or 305.674.8200.
About the Beacon Hotel
Renowned among chic and stylish Miami Beach hotels, and located in the heart of South Beach, the Beacon Hotel is a Boutique Art Deco Hotel just steps away from all of the best entertainment that South Beach has to offer: Sun, Sand and Sea. With the clear blue waters of the Atlantic directly across its front doors, the Beacon Hotel offers the perfect ambiance for a breathtaking beach vacation, featuring world-class amenities, an exquisite restaurant and tantalizing nightlife. Guests enjoy an extraordinary gastronomic experience with live music entertainment that will elevate their spirits with the melodies that fill the air. With an array of beach side water sports, state-of-the-art fitness center and highly advanced business center, Beacon Hotel is a full-service boutique South Beach Hotel.
Learn more at http://www.beaconsouthbeach.com/.