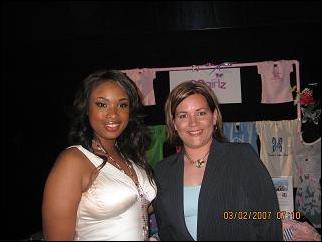 I want our library of resources to be stepping stones to help women and girls spark the passion within and dare to be extraordinary
Gilbert, AZ (PRWEB) March 26, 2007
Jennifer Hudson, Raven Symone, Anika Noni Rose and Chandra Wilson helped Gilbert entrepreneur and uGOgirlz owner Chris Frueh launch her new jewelry line at the 38th NAACP Image Awards in Los Angeles.
Frueh met with the stars in the celebrity gift room and handed out samples of her products which included her newest line of Kazuri bead jewelry, which features hand-made, hand-painted, ceramic jewelry made from women in Nairobi, Kenya. The ceramic coop, which is a member of the Fair Trade Federation, has helped hundreds of women artisans earn fair wages, educate their families and greatly improve their standard of living.
Frueh also introduced three new shirt designs: Dreams Come True, a vintage tee with grinded collar and sleeves, Breathe Life Into Your Dreams, which features a Phoenix bird rising from the ashes and Butterfly Swarm. She has also expanded her line to include additional sizes and colors.
"All night I kept hearing, 'This is a great message! What a great idea! We need more of this!'" said Frueh. "Singer, India Arie picked up a few items and immediately wore the necklace. They were so supportive. Not just because of the designs, which they loved, but what uGOgirlz merchandise represents - that every female should feel empowered to believe in themselves and their dreams."
The uGOgirlz company offers designs that promote peace, happiness and imagination. The Gilbert resident and former elementary school teacher said she believed clothing with inspirational messages would provide a constant reminder for women and girls to live the messages they wear. She hopes that when women and girls see their favorite actress in the motivational attire, they will be inspired to follow suit.
In addition to its creative T-shirt designs and Kazuri bead necklaces and bracelets, uGOgirlz provides visitors with a wide selection of resources that promote inspiration and motivation for conquering goals. Links to different articles and reading materials make it easy for females to learn the necessary strategies to achieve their dreams.
"I want our library of resources to be stepping stones to help women and girls spark the passion within and dare to be extraordinary," said Frueh. "Every woman and girl is a star in their own right."
T-shirt prices range from $15 to $30 (plus shipping and tax) and a portion of the sale of each uGOgirlz product will go to Women for Women International, a non-profit humanitarian organization dedicated to the financial, educational and interpersonal support of women survivors of war, poverty and injustice.
For more information, visit http://www.ugogirlz.com
###