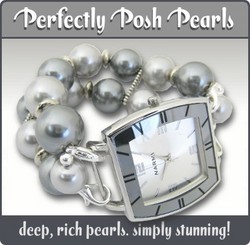 Chunky Bling has grown from a small, in-home business to become the leading online jewelry retailer for interchangeable beaded watches.
Provo, UT (PRWEB) September 22, 2010
ChunkyBling.com, an online retailer specializing in chunky, beaded jewelry, today announced the launch of a new and improved website. This is the first major upgrade to the site in the company's two year history.
"Since our founding in 2009, Chunky Bling has grown from a small, in-home business to become the leading online jewelry retailer for interchangeable beaded watches. We created the website to provide a simpler, more seamless shopping experience for our customer, as well as to showcase our product in new and unique ways," said Douglas Hatch, Founder and Owner. "The wider layout of the site has provided us with additional real estate for bigger and bolder product photos. It has also permitted us to incorporate a variety of new product and social media features, which will allow our customers to more easily explore and share our jewelry."
The new site continues to be focused around the company's flagship product—Interchangeable Beaded Watches. But Chunky Bling has also expanded its offering of beaded bracelets, rings, and necklaces, which are offered as matching accessories to their watches.
New Chunky Bling Features: A Closer Look
Build Your Own Watch: Simpler and more intuitive than its predecessor, this feature allows customers to create hundreds of custom combinations of watch bands and faces. Customers can sort bands and faces using a variety of characteristics, including color, size, style, and chunkiness. With more than 65 watch bands and 90 watch faces to choose from, the custom combinations are almost endless.
Build Your Own Necklace: Building on the success of their watch lineup, Chunky Bling has now released a feature which allows customers to create their own interchangeable necklace. By pairing a silver chain with one or several charm clusters, the customer is able to create many different looks—from casual to elegant; from funky to formal.
Improved Site Search: Chunky Bling has incorporated more powerful search capability into their new site. The improved search back-end includes "fuzzy search" capabilities which provide more relevant and robust search results—improving the site navigation experience.
Bigger Product Images: With the additional real estate provided by the wider site layout, Chunky Bling has been able to incorporate larger product images and in greater quantities on the site. Each product page now features a large product image with hover-zoom capabilities, along with four smaller thumbnail images. The product page also features a new matching accessories feature which suggests other jewelry items of interest to the customer.
About ChunkyBling.com
ChunkyBling.com is the leading online retailer of interchangeable beaded watches. The company prides itself on delivering quality jewelry to its customers at bargain prices. Its offices are located in Provo, UT. You may find the website online at ChunkyBling.com.
###