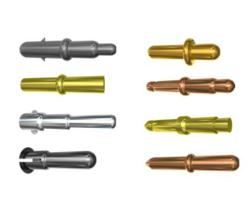 Bead has worked diligently to be conflict free and responsible in every way.
Milford, CT (PRWEB) September 19, 2012
As a manufacturer of precision electronic components, Bead Electronics produces contact pins made from different metal materials such as brass, copper, nickel, stainless steel, tin, and gold. For some manufacturers, the tin and gold materials they purchase from smelters may be derived from areas like the Democratic Republic of the Congo, where so-called 'Conflict Minerals' have contributed to a civil war that has killed millions of people. For Bead Electronics, this is not the case. Its materials, purchased from both local and national metal suppliers and refiners, can be traced back through its supply chain to the US and Canada.
In August, Congress passed the Dodd-Frank Act which mandates that public companies disclose the use of conflict minerals originating in either the Democratic Republic of the Congo (DRC) or its surrounding countries. Although Bead Electronics is privately held, it takes the regulation seriously.
While only some of its customers request certification proving that the products supplied are not 'conflict minerals', all customers can rest assure that Bead Electronics' products are conflict free. "Bead has worked diligently to be conflict free and responsible in every way, and we are proud to pass on these protections to our customers," said Ron Andreoli, President of Bead Industries.
About Bead Electronics
Bead Electronics, a division of Bead Industries, Inc., manufactures precision end-to-end pins, solid-wire pins, and tubular pins for the telecom, automotive, connector and lighting industries. Their custom components deliver the performance of machined pins at the price of stamped, and they can be tooled in a fraction of the time at a modest cost.
The Bead-formed manufacturing process, called swaging, yields superior value because it's a high-speed, virtually scrapless cold-forming process capable of producing small metal parts that are dimensionally consistent and inexpensive.