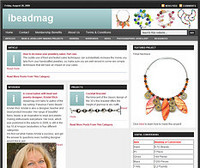 Chesterfield, England (PRWEB) September 1, 2009
Emprical Praxis Ltd are launching a new internet magazine today, 1st September 2009. The digital magazine is aimed at women crafters who have a particular interest in making jewellery.
Women who enjoy spending their leisure time crafting would prefer to stay home and work from the kitchen table turning their hobby into a home business, according to research carried out by bead supply company epbeads.co.uk in preparation for the launch of the new internet craft magazine, ibeadmag.com
Response to a recent survey carried out by epbeads.co.uk suggests most women who enjoy beading and making jewellery, one of the fastest growing hobbies in the UK, would love to work at something they love and are passionate about; ideally running a business from the kitchen table .
The appeal of the traditional style cottage industry, which would fit in around childcare and family commitments appears to be the ideal scenario. Unfortunately many women feel that they lack the skills or confidence to take this dream any further.
In response to the findings, ibeadmag.com is offering a mixture of free and premium content within the magazine style website, which will be specifically targeted at helping women develop their jewellery making skills using beads and other mixed media, as well offering support in areas like business development and marketing.
For the September launch, ibeadmag.com is offering a free Jewellery Making DVD and a free month's trial membership to ibeadmag. Anyone interested in learning to make jewellery or developing their existing skills with the aim of turning them into a home business should go to ibeadmag.com/getstarted for more details.
For further information contact Allison Galpin ibeadmag.com
Tel: +44 1246 556988
ibeadmag.com was developed as a concept by Allison Galpin. Allison previously worked in the publishing industry, and went on to develop a business making and selling handcrafted jewellery from home, when she became a single parent after separating from her husband. She currently is director of Empirical Praxis Ltd a multifaceted business which has interests in beads and beading supplies.
###