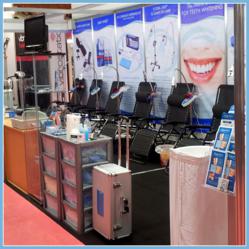 "The best part about it is its practicality and portability." - Fahad
Manchester, UK (PRWEB) November 01, 2012
Beaming White, a leading manufacturer of teeth whitening products, offers teeth whitening treatments at trade shows in order to give potential wholesale customers a real time experience of the product and the treatment itself.
In order to more effectively demonstrate their EU compliant, non-peroxide teeth whitening kit in the UK, (which is based on sodium perforate), Beaming White found an ingenious way to overcome the need for a sink during the Pro Beauty Trade Show in Manchester. The construction of the sink displayed a great amount of ingenuity. A pipe was connected to a basin at one end, and a large plastic container on the other. At the end of the day, the plastic container's contents were easily disposed of with a simple flush.
"We have encountered problems with access to restroom facilities in the past, so our team at the Manchester show created this apparatus to meet our needs. The sink is a clean, professional vessel that we're proud to offer our tradeshow customers. The best part about it is its practicality and portability," said Fahad Shah.
This groundbreaking invention held up to the United Kingdom's very stringent hygiene requirements, and was approved for use by the UK health authorities hence, paving the way for future use.
Thanks to the convenience of the new sink, the tradeshow treatments are more satisfying for everyone. Trained technicians guide customers while they apply the special non-peroxide teeth whitening gel to their teeth. Then, after the gel has been applied properly, the customer sits underneath the Futura 2400 LED lamp for 15 to 20 minutes. After rinsing their mouths with water at the revolutionary new sink, the customer is always anxious to see the results of the treatment. Before the customer leaves the office they are provided with thorough instructions on how to keep their "Beaming White" smile beaming for as long as possible. The process requires only one visit and how long the results last depends on the customer's diet, lifestyle, oral hygiene habits, and the porosity of their enamel. However, because the EU compliant gel is completely peroxide-free, the treatment can be safely repeated on a monthly basis.
Beaming White offers teeth whitening products that are safe, effective and affordable. They offer training to dental technicians to ensure that customers are provided with the best possible care, comfort, and customer service. Beaming White operates in the United States and Canada as well as in Europe. To learn more about Beaming White and their products visit their website at: http://www.beamingwhite.com.