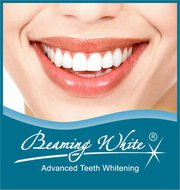 We are growing at a breakneck pace in spite of the economy.
Barcelona, Spain (PRWEB) March 08, 2012
Beaming White has served the dental and salon/spa teeth whitening industry for four years yet has grown to be the leading teeth whitening supplier to the beauty industry worldwide during that time. To accommodate their rapid growth, Beaming White opened a new office and manufacturing facility in Barcelona, Spain, which will serve as headquarters for their European operations.
"We are growing at a breakneck pace in spite of the economy," says Luis Lajous, founder and CEO of Beaming White, LLC. Beaming White is a leading manufacturer of teeth whitening products, equipment and supplies for the beauty and dental industries worldwide.
Not quite four years old, the company formed in 2008 and is headquartered in Vancouver, Washington. However, with sales having tripled in 2011, they are about to move their corporate headquarters into a larger manufacturing facility and office complex in order to accommodate their rapid growth and production demands. In addition, they recently opened a new European headquarters in Barcelona, Spain to facilitate their production demands in Europe.
The new Beaming White Europe office is located in the nicest part of Barcelona alongside the many high-end boutiques, restaurants, and offices of the Passeig de Gracia area, at Carrer de Tuset 19, 08006 Barcelona, Spain. It is centrally located and within walking distance of the Passeig de Gracia Station.
"We absolutely love our new location," says Loli Rodriguez, Managing Director for the European operations. Rodriguez came from Beaming White's UK teeth whitening operations to the new location in Barcelona along with a few of her key managers. In addition to the transplanted management, Beaming White Europe hired several mid and upper-level managers from the local workforce in Barcelona and can probably be counted on for creating more local job opportunities in the near future.
Beaming White attributes much of its rapid growth to Rodriguez's assertive management of the London office. Since opening their doors in London in January 2011, Beaming White took less than one year to become the leading supplier of teeth whitening products in the UK. Following close on the heals of their explosion in the UK, Beaming White expanded into France and fomented the unprecedented growth of "bar à sourire," or teeth whitening bar, a market that Beaming White dominates by supplying most or all of the largest chains in that industry.
Lajous expects no less from Beaming White Europe. The Barcelona location will supply a full suite of teeth whitening equipment, supplies and marketing materials to dentists, spas, salons, and "bar à sourire" operators throughout Europe. More information about Beaming White products and services is provided on the company website at http://www.BeamingWhite.com