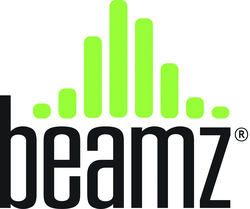 I'm a dedicated Mac user, and felt a little like a stranger in a strange land when I first was introduced to the PC-based Beamz
Nashville, TN (Vocus) June 19, 2010
Beamz Interactive, an interactive music products company that develops innovative musical instruments and music entertainment products to enable people of all ages and skill levels to play music, today announced top jazz musician Peter Erskine's involvement in the development of original rich content for the Beamz Player Interactive Music System. Erskine contributed a series of drum sounds, rhythmic loops and beats that were composed into original Beamz songs that are packaged with the new Beamz Player Interactive Music System, which is being demonstrated at the 2010 Summer NAMM Conference in Nashville (Booth #405).
"I'm a dedicated Mac user, and felt a little like a stranger in a strange land when I first was introduced to the PC-based Beamz," said Peter Erskine. "Within moments, I thought, 'This is far out!' I was instantly attracted to the immediacy that the instrument offers to everyone. The Beamz is a musical gateway or doorway that allows anyone to enter the world of sampling, loops and sound manipulation. For me the interest lies in reaching budding musicians who don't necessarily have technical or musical instrument expertise, but who have music in their hearts. It's one of the more user-friendly interfaces I've ever seen."
For over 35 years, Peter Erskine has been delighting his fans with award-winning, world-class Jazz ensembles. He has earned two Grammy Awards throughout his career, one with the band Weather Report, and the other for the Randy & Michael Brecker album, "Some Skunk Funk." Following his four years in Weather Report, he began to play with Mike Brecker, Mike Mainieri, Don Grolnick and Eddie Gomez in the group Steps Ahead. He has contributed to more than 500 albums and film scores, including work with Steely Dan, Diana Krall, Chick Corea, Joe Henderson, Freddie Hubbard, Joni Mitchell, Kate Bush, London Symphony Orchestra, Berlin Philharmonic, BBC Symphony Orchestra and the Los Angeles Philharmonic to name a few. Besides touring and recording, Erskine is composing for theater, dance, film and television. He has produced four instructional videos and eight books, and is currently the Director of Drumset Studies at the USC Thorton School of Music. He has won the Modern Drummer magazine Readers' Poll in the "Jazz Drummer" category 10 times.
"With more top music artists embracing this new, interactive musical instrument, we continue to receive validation in the market for our product and overall vision," said Beamz Interactive CEO Charles Mollo. "We are delighted to partner with such an amazing Grammy-award winning musician to elevate the sounds in our original Beamz songs library."
"One of the biggest draws of the Beamz is its dynamic mapping system. Even through different harmonic progressions or chord changes, the Beamz offers the ability for people to explore the art of improvisation without fear of playing a bad or wrong note. They can develop an improvisational muscle without even knowing it. Whether a music educator, adult or child, the Beamz brings true benefits in exploring music," added Erskine. "The Beamz offers a very easy way for people to deconstruct and reconstruct compositions using my real drum sounds, rather than programmed drum tracks. The Beamz composer I worked with brilliantly captured the rhythmic feeling from the music I created in Steps Ahead and with Steeley Dan into this interactive format. It's been a neat opportunity to become a part of this phenomenon."
How the Beamz Works
The Beamz is an amazing interactive musical instrument that anyone can play. It allows you to create music by passing your hands through laser beams, triggering streams of musical notes. Each beam controls a different, pre-programmed instrument, rhythm or sound. With the Beamz, anyone can enjoy the benefits of musical expression, regardless of musical background. Beamz software also includes the option to easily record your music performances – making your own songs for playback as a WAV or Windows Media File.
About Beamz
Based in Scottsdale, AZ, Beamz Interactive, Inc. is an interactive music products company that develops innovative musical instruments and music entertainment products to enable people of all ages and skill levels to play music. Its premier product, the Beamz Player, is an affordable new musical instrument that allows people to make music by simply passing their hands through any of the four laser beams that each triggers different streams of musical notes and sounds. Beamz players can access over a hundred songs, both originals and top hits, for inspiration to create their own music. Beginners and children can play with ease, while more experienced musicians will be amazed at its limitless possibilities to arrange, compose, produce and record music. Powered by a computer through a USB port, the Beamz Player is easy to install and begin using – reading music is not required. The interactive songs included with the Beamz Player and the additional songs available on the Beamz web site were created using the Beamz Studio software. Beamz Interactive's technology portfolio includes multiple patents, patents pending and trade secrets covering interactive music, software, laser-based controllers, gaming applications, and related designs and devices. Beamz products can be purchased through http://www.thebeamz.com. Check out the Beamz video to see how it works or view the Beamz video gallery.
Contact Info:
Cathy Sperrazzo
Eye-To-Eye Communications, Inc.
858-565-9800
cathy(at)eyetoeyepr(dot)com
###