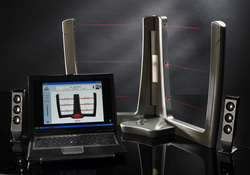 The Beamz immediately draws you in when you see it…both from a visual and musical standpoint
Scottsdale, AZ (Vocus) July 21, 2010
Beamz Interactive, an interactive music products company that develops innovative musical instruments and music entertainment products to enable people of all ages and skill levels to play music, today announced its sponsorship of Vinyl Station's 10-city concert tour that opened July 16 in Scottsdale and runs through August 2010. Vinyl Station will be using the Beamz interactive music laser controller to add a unique visual playback element in their performances.
Vinyl Station is a five-piece "Roots Rock Vibe" band featuring drums, bass, acoustic guitar, lead guitar, B3 organ, accordion, piano and vocals. Formed in 2009, Vinyl Station was conceived and organized by drummer Scott Kusmirek, who has toured and recorded with the Multi-Platinum, Grammy-nominated, "Gin Blossoms," and 80's synth-pop sensation, "When in Rome." Vinyl Station hails from Phoenix, Arizona and consists of an array of some of the best musical talent in the region, featuring songwriter Matthew Thornton (lead vocals, guitar), Scott Kusmirek (drums), Darell Colton (bass), Blake Thompson (touring lead guitar, vocals) and Ted Greenbaum (B3 organ, accordion and piano).
The Beamz is an interactive music system that triggers music by breaking laser beams, with each beam controlling a different pre-programmed instrument, rhythm or sound effect. Using the Beamz Studio interactive music editor software, musicians may easily use the Beamz as an interactive laser controller to trigger and playback their music, their way by playing light.
"The Beamz immediately draws you in when you see it…both from a visual and musical standpoint," says Scott Kusmirek, drummer for Vinyl Station. "My first thought when I saw it was, 'What is that?' I was intrigued as I watched people playing the light. Their faces lit up as they put their hand through the laser beams and began making sounds. From the way it looked and triggered music, I immediately realized with our upcoming performance schedule that the Beamz would be a great addition to our show!"
Vinyl Station's musical sound has been compared to Wilco, Ryan Adams, and U2 while at the same time they have created their own unique sound. With a combined 60 years of musical experience and talent, the individuals of this quintet have performed and recorded with the likes of Hootie and the Blowfish, When in Rome, Seal, Cowboy Mouth, Gin Blossoms, Bit O Jane, Disco Pimps, John Popper and many more… Vinyl Station combines its original songs with an array of cover songs performed with their own unique style to provide the audience with a memorable experience, leaving them wanting more.
"We continue to gain strong adoption of our interactive music products with prominent musicians and we are ecstatic to sponsor this up-and-coming band, Vinyl Station with their summer concert tour," said Charlie Mollo, Beamz President and CEO.
Here are the dates and locations for Vinyl Station's The Streets Tour:

July 28, 2010 – Chicago, IL for a "Radio Industry Show"
July 29, 2010 – Green Bay, Wisconsin at "Jimmy Seas"
July 30, 2010 & July 31, 2010 – Milwaukee, Wisconsin at "Trinity Three Irish Pubs"
August 1, 2010 – Richfield, Wisconsin for a "Private Music Industry Party"
August 3, 2010 – Munising, MI to perform at "Concert in the Park"
August 3, 2010 – Munising, MI "Concert In The Park AFTER PARTY"
August 4, 2010 – Marquette, MI at "The Wild Rover"
August 5, 2010 – Grand Mariais, MI at "Lake Superior Brewing Co."
August 6, 2010 and August 7, 2010 – Iron Mountain, MI at "Flip's Greenleaf Bar & Grill"
Beamz interactive music products are used by musicians, DJs and consumers. The Beamz benefits musicians who are interested in a revolutionary way to make and create music with an interactive music controller; DJs and mobile entertainers looking for a new way to engage an audience and trigger music clips by breaking laser beams; consumers interested in recreational music making and a new way to interact with music; and educators who are trying to reach special needs kids or captivate any child interested in making music.
"We are excited about incorporating the Beamz into our performances and look forward to exploring ways to remix our own music into the Beamz so we can expand the band on stage with just one piece of equipment," added Scott Kusmirek.
About Vinyl Station
Vinyl Station has currently sold in excess of 5,000 CD's independently and continues to sell at an amazing rate. With newly recorded single "Confess," written by Gin Blossom guitarist and songwriter Jesse Valenzuela for the upcoming Farrelly Brothers movie Hall Pass to be released in 2011. Supporting Vinyl Station on "The Streets Tour" is Australian singer songwriter sensation "Marta" from Melbourne Australia. Check out the link http://www.vinylstationband.com to learn more about Vinyl Station.
About Beamz
Based in Scottsdale, AZ, Beamz Interactive, Inc. is an interactive music products company that develops innovative musical instruments and music entertainment products that enable people of all ages and skill levels to play music. Its premier product, the Beamz Player, is an affordable new musical instrument that allows people to make music by simply passing their hands through any of the laser beams that each triggers different streams of musical notes and sounds. Beamz players can access over a hundred songs, both originals and top hits, for inspiration to create their own music. Beginners and children can play with ease, while more experienced musicians will be amazed at its limitless possibilities to arrange, compose, produce and record music. Powered by a computer through a USB port, the Beamz is easy to install and begin using – reading music is not required. The interactive songs included with the Beamz Player and the additional songs available on the Beamz web site were created using the Beamz Studio software. Beamz Interactive's technology portfolio includes multiple patents, patents pending and trade secrets covering interactive music, software, laser-based controllers, gaming applications, and related designs and devices. Beamz products can be purchased through http://www.thebeamz.com. Check out the Beamz video to see how it works or view the Beamz video gallery.
Contact Info:
Cathy Sperrazzo
Eye-To-Eye Communications, Inc.
858-565-9800
###