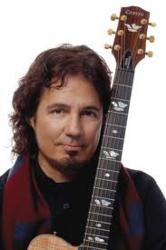 It's an emotional thing to have Craig showing hospitalized children, regardless of their physical limitations, how they can experience the joy of music-making by touching lasers and playing light.
Scottsdale, Arizona (PRWEB) May 01, 2013
Beamz Interactive, Inc. (OTCQB: BZIC), a music product and technology company, today announced two scheduled performances by Beamz music composer and recording artist Craig Chaquico. The Beamz Music Library includes interactive versions of hit songs from Craig's current guitar solo career.
Craig will be performing along with Austin William Gatus, an incredible 16-year-old saxophone artist and public speaker who is a childhood cancer survivor. Both events are a hosted by the Starlight Children's Foundation, an organization that responds to the need in hospitals for creative and fun outlets for seriously ill children through a Pediatric Hospital Support Program. This unique hospital program supports Music and Dance Therapy, Karate Classes for kids fighting cancer, adapted Yoga sessions for profoundly disabled children, Sensory Therapy, Recreational Rooms and many other creative projects that enhance the lives of hospitalized children.
Time and Location for Photo and Interview Opportunities
12:00 – 1:00 PM Children's Phoenix Hospital
The Child Life Zone, 1st Floor, East Building
1919 E. Thomas Road, Phoenix, AZ 85016
(Parking available in the Cambridge Garage off of 20th Street and Cambridge road, West of 51 freeway.)
The second event, the Sparkling Starry Soiree hosted by Hotel Palomar Phoenix Cityscape, Presented by Northwestern Mutual, is Sold Out but information about the Starlight Children's Foundation and avenues for donations can be found at http://www.starlight.org/arizona/events
"Craig Chaquico has been a long-time supporter of Beamz Music Systems," said Charlie Mollo, Beamz CEO. "He's an early adopter of our laser controller and a music contributor to the Beamz Music Library. Having Craig take Beamz into his philanthropic efforts is very rewarding for everyone involved. It's an emotional thing to have him showing hospitalized children, regardless of their physical limitations, how they can experience the joy of music-making by touching lasers and playing light."
About Beamz
Based in Scottsdale, AZ, Beamz Interactive, Inc. (http://www.thebeamz.com) has created a new interactive laser controller technology that can be used to develop new market opportunities in a wide variety of music, game, therapy and consumer applications. In its first application, the Company developed an innovative new music technology and product offering that brings music to literally everyone in a manner that has previously not been possible. Beamz allows people that have no musical background or training to play and enjoy music within minutes, yet it has the depth to enable accomplished DJs, artists and musicians to perform, compose and create very sophisticated interactive music. Beamz Interactive's technology portfolio includes multiple patents, patents pending and trade secrets covering interactive music, software, laser-based controllers, gaming applications and related designs and devices.
About Craig Chaquico
Craig has engaged and inspired two generations of pop music fans, first as a founding member, the only lead guitar player, and a principle prolific songwriter for the multi-platinum Jefferson Starship / Starship during the '70s, '80s, and all the way till the band finally split up in 1990 and stopped recording. While others came and went Craig is the only person in the band to ever have appeared on every hit song, hit album, hit CD, national tour, MTV video, during that whole most historic and successful time for the band. After many various excellent substitutes on lead guitar since, if it was actually a real original Jefferson Starship and/or Starship recording, hit song, and/or you heard it on the radio, and/or you saw it on MTV, then it was only Craig playing all the lead guitar.
With 20 Gold records with Jefferson Starship and Starship, as an original founding member, lead guitarists, co-producer and songwriter, Craig was instrumental in making that one of the most successful bands in history. http://www.craigchaquico.com/
About Starlight Children's Foundation
Starlight Children's FoundationTM was founded in 1983 and partners with experts to improve the life and health of kids and families around the world. Each year, Starlight Children's Foundation Arizona touched the lives of more than 74,000 children and their families statewide. On a global reach more than three million have been helped! http://www.starlight.org/arizona
###
Cautionary Note Regarding Forward-Looking Statements
This press release contains, and our officers and representatives may from time to time make, "forward-looking statements" within the meaning of the safe harbor provisions of the U.S. Private Securities Litigation Reform Act of 1995. Forward-looking statements can be identified by words such as: " anticipate," "intend," "plan," "goal," "seek," "believe," "project," "estimate," "expect," "strategy," "future," "likely," "may," "should," "will," and similar references to future periods. Examples of forward-looking statements include, among others, statements we make regarding: expected operating results, such as revenue growth and earnings; anticipated levels of capital expenditures; strategy for customer retention, growth, product development, market position, financial results and reserves; and strategy for risk management.
Forward-looking statements are based only on our current beliefs, expectations and assumptions regarding the future of our business, future plans and strategies, projections, anticipated events and trends, the economy and other future conditions. Because forward-looking statements relate to the future, they are subject to inherent uncertainties, risks and changes in circumstances that are difficult to predict and many of which are outside of our control. Our actual results and financial condition may differ materially from those indicated in the forward-looking statements. Therefore, you should not rely on any of these forward-looking statements. Important factors that could cause our actual results and financial condition to differ materially from those indicated in the forward-looking statements include, among others: Economic and financial conditions, including volatility in interest and exchange rates, commodity and equity prices and the value of financial assets; volatility in the capital or credit markets; technological developments or other changes that affect customer demand.
Any forward-looking statement made by us in this press release is based only on information currently available to us and speaks only as of the date on which it is made. We undertake no obligation to publicly update any forward-looking statement, whether written or oral, that may be made from time to time, whether as a result of new information, future developments or otherwise.