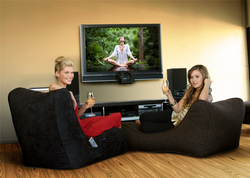 London, UK (PRWEB) March 10, 2009
With the spiraling costs of living in the UK and USA this year, consumers have vowed to knuckle down and simplify their life, yet importantly reward themselves within their means. Quite simply, many have been squeezed into entertaining at home a lot more.
People are spending their money wisely on their own home entertainment rooms for their creature comforts. It is an investment in their own luxury and sanity in these tough economic times. Items such as LCD widescreen high definition TVs, Blu-ray players and movies, wireless stereo surround sound systems and lounge furniture comforts like leather bean bags are where consumers are getting value for money due to high usage.
Peter Bossini, 36, an Advertising Executive from Soho says "I used to go out for dinner and drinks three, maybe four times a week. Tightening the buckle is not such a bad thing, it has made going out a little more special to be honest. I would prefer to make my place just a little nicer and hang out here more evenings now. I have got my own home cinema up and running and the audio-visual quality together with the comfort provided by the bean bags sure offers a great alternative to cramped cinema seats and the rustling of popcorn."
# # #