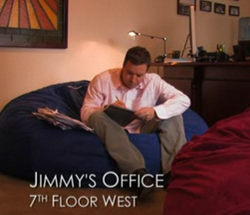 New York (PRWEB) July 16, 2009
Ultimate Sack, developers of the popular and versatile foam-filled bean bag chairs made their late night television debut on NBC's Late Night with Jimmy Fallon on Monday night's episode.
The weekly soap opera parody--7th Floor West--features Fallon and his staff in comedic situations that focus on continuity of the story from week to week. The Ultimate Sack bean bag chairs were used on the most recent episode featuring Fallon sitting on the sack in his office--showing the versatility of the product being able to be used in many applications.
Ultimate Sack is an affordable alternative to any sofa, recliner, and love seat--giving those looking for a place to lounge, read, study, or work a perfect solution. These bean bag chairs are great college dorm furniture, kids bean bags, or large bean bags for adults to lounge. In comparison to the Love Sac®, this 'love sack' boasts high-quality at lower price in comparison to its competition.
The word is quickly spreading about these better bean bags, capturing the attention of not only well-known comedians such as Jimmy Fallon, but former Super Bowl Champions like Elvis Grbac and anyone looking for affordable, comfortable bean bag furniture. One happy customer writes, "Just wanted to let you know how much I am enjoying my new Ultimate Sack. I am really impressed with the size, comfort and quality. It is everything you said it was plus more. I couldn't be happier. It is definitely the most comfortable chair I have ever sat in and owned."
Ultimate Sack is family owned company whose purpose is to provide a comparable product at price that is affordable for everyone. The rapidly growing company has received copious praise for its exceptional customer service, speed of delivery and the excellent quality of these large bean bag chairs, raising the bar for other companies selling similar products.
For more information on how to get your Ultimate Sack, visit their Web site at: http://www.ultimatesack.com for more information on how to order yours today!
Ultimate Sack
1227 A Norton Road
Hudson, Ohio 44236
Toll-Free
1-877-871-7159
To watch Ultimate Sack on Jimmy Fallon, visit:
Ultimate Sack Bean Bags on Jimmy Fallon
###