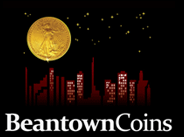 Coin collecting is the King of Hobbies, and the Hobby of Kings.
Boston, MA (PRWEB) June 30, 2011
Beantown Coins is now open for business. They're the newest rare coin dealers in America covering early copper, small and large cents, 2-cent and 3-cent pieces, nickels, half-dimes, dimes, quarters, 20-cent pieces, half dollars, dollars, gold coins and more. They will also be expanding further into classic commemorates and world coins as well in the coming weeks. Their prices are temporarily slashed, they're inventory is expanding every week, and they are offering collectors a social media and customer service experience not found elsewhere.
As a newly founded company, Beantown Coins is looking to establish customer relationships throughout the coin collecting community. In an effort to begin dealing with new customers they offer top dollar for coins that they buy from the general public, when people sell coins. They will also consider further discounts on some of their inventory upon request, so make them an offer.
According to founder David Leventhal, "Beantown Coins will quickly grow in size and stature throughout the coin collecting universe because we will look to incorporate the modern joys of social networking with the classic thrills of coin collecting, the king of hobbies and the hobby of kings."
About Beantown Coins:
Beantown Coins was established in 2011 as a way for their proprietor to share his unique inventory and the skill of his staff with the general public. David Leventhal, the son of a coin dealer, has himself been a full-time numismatist (coin dealer) since 1979. David's father, Edwin Leventhal founded, and operated for over 30 years, J.J. Teaparty, Boston's oldest and largest rare coin dealers. Before it's sale to new owners, David was employed at J.J. Teaparty by his father in all aspects of numismatics, including acting as an agent for buyers at auction. He has extensive experience in all categories of rare and collectible coins and brings his skill in grading to verifying their entire inventory. According to manager Joe Palmieri, "We will continue to represent the high standards of generations of merchants of our trade, and we will soon become a major presence in rare coins, online."
# # #