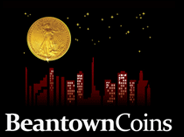 Many people are very comfortable using Paypal for all of their online transactions.
Boston, MA (PRWEB) September 23, 2011
Boston's newest rare coin dealers, BeantownCoins.com, now accepts Paypal as a method of payment for orders on their site, as well as on Ebay. The company continues to accept all major credit cards on the website as well.
According to company co-founder and manager Joe Palmieri, "Many people are very comfortable using Paypal for all of their online transactions because of the protections provided."
The company sells rare silver and gold coins. Gold coins include US Gold Liberties and Eagles, British Sovereigns, and Canadian Maple Leafs among others. The popular silver coins include pre-1965 US silver currency, ranging from bullion to mint condition; coins such as Morgan Silver Dollars, Peace Dollars, Franklin and Walking Liberty Half Dollars, and any coins from the Barber Series and Standing Liberty and Seated Liberty Series.
About Beantown Coins:
Beantown Coins was established in 2011 as a way for their proprietor to share his unique inventory and the skill of his staff with the general public. David Leventhal, the son of a coin dealer, has himself been a full-time numismatist (coin dealer) since 1979. David's father, Edwin Leventhal founded, and operated for over 30 years, J.J. Teaparty, Boston's oldest and largest rare coin dealers. Before it's sale to new owners, David was employed at J.J. Teaparty by his father in all aspects of numismatics, including acting as an agent for buyers at auction. He has extensive experience in all categories of rare and collectible coins and brings his skill in grading to verifying their entire inventory. According to manager Joe Palmieri, "We will continue to represent the high standards of generations of merchants of our trade, and we will soon become a major presence in rare coins, online."
###