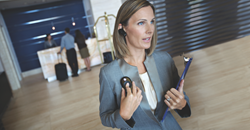 Two-way radios can be purchased, received, and in use quickly, with minimal staging and staff training.
Dallas, TX (PRWEB) August 04, 2014
BearCom, a nationwide provider of wireless communications equipment and solutions, today released information on the swift and easy deployment of two-way radio communications.
Companies seeking to improve communications, productivity and efficiency benefit from a solution that is quick and easy to deploy. BearCom is educating the marketplace on the speed and simplicity of two-way radios as an out-of-the-box solution.
"Because it's a technology solution, a lot of people have the mistaken idea that two-way radios are complicated to deploy," said Hugh Johnston, Product & Purchasing Manager at BearCom. "This couldn't be further from the truth. Two-way radios can be purchased, received, and in use quickly, with minimal staging and staff training."
Two-way radios are designed for easy operation. Radios are packaged with everything needed for usage, including a battery, charger, belt clip and antenna. Some radios come with channels pre-programmed and users have the ability to match their licensed frequencies.
Before initial deployment of a two-way radio system, an FCC license is necessary for legal operation. This is a relatively simple process and BearCom can assist with all paperwork. With new FCC licensing, it takes about two weeks before you can legally operate, but add-on units can be used right away. When it is not feasible to go through all of the steps to set up an entire FCC-compliant radio system, there are VHF radios that are license-free and can be used legally the same day.
Because two-way radios are intuitive to use, staff needs little instruction beyond how to charge the units and the processes of push to talk and release to listen. Simplicity of use enables radios to be put into same-day service across a small- or larger-sized staff.
Business users can see a return on investment in less than two months based on calculable returns in efficiency and productivity as well as improved customer service, employee engagement, and added safety.
BearCom offers qualified customers proof of concept opportunities with a 30-day free trial for vetted business uses, so a business user can test and verify the solution before making a capital commitment.
"Businesses reap tangible benefits from instant, one-to-many communications," said Johnston. "With a plug-and-play solution like two-way radios, those benefits can start accruing very quickly."
For companies looking for easy-to-deploy and cost-manageable two-way radio communications, Johnston suggests two series of radios from Motorola Solutions. He lists the Motorola CLS1110 and Motorola CLS1410 from the CLS Series, as well as the CLP Series that includes the Motorola CLP1010, Motorola CLP1040, and Motorola CLP1060.
Motorola CLS Series portable radios are economical, compact, lightweight, and compatible with a variety of accessories. Simplified charging and cloning make CLS radios easy to manage, and they are so simple to use that little or no investment in training is required – hence, they are virtually plug-and-play devices.
Motorola CLP Series radios are even lighter and smaller. Their design integrates an earpiece, which makes for even more discreet communications. The CLP1010, CLP1040, and CLP1060 are extremely easy to use, as they integrate only the essential accessory elements. Additionally, the CLP1060 is Bluetooth enabled. It is sold with the necessary Bluetooth earpiece, so it is ready-to-use out of the box.
For more information about Motorola CLS and CLP Series two-way radios, please visit http://www.BearCom.com. Call 800.527.1670 for Sales assistance and 800.541.9333 for Rentals assistance.
About BearCom
BearCom provides a broad line of high-performance wireless communications products, services, and complete mobility solutions. Founded in 1981, BearCom is America's only nationwide dealer and integrator of wireless communications equipment, serves customers from 28 branch offices located throughout the U.S., has several affiliated offices around the world, and employs approximately 400 people. BearCom is headquartered in the Dallas, Texas area. For more information, visit http://www.BearCom.com and http://www.TodaysWirelessWorld.com.
MOTOROLA, MOTOROLA SOLUTIONS and the Stylized M Logo are trademarks or registered trademarks of Motorola Trademark Holdings, LLC and are used under license. All other trademarks are the property of their respective owners. ©2014 Motorola Solutions, Inc. All rights reserved.