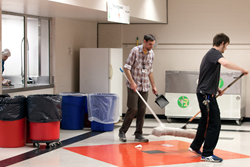 Education personnel need access to instant one-to-many communications to manage both routine and extraordinary situations on campus.
Dallas, TX (PRWEB) June 25, 2014
BearCom, a nationwide provider of wireless communications equipment and solutions, today detailed areas in which two-way radios can have a significant impact on collaboration and student safety in schools.
"School campuses function like small communities with efficient coordination needed to address day-to-day administration as well as unexpected hazards," said Hugh Johnston, Product & Purchasing Manager at BearCom.
There are a number of areas for which BearCom recommends two-way radio communications for campus safety and efficiency:
1. Emergency response – Tragic incidents of violence have drawn attention to the need for timely and reliable communication on school campuses in the case of an emergency. Whether coordinating a campus lockdown or response to a natural disaster, two-way radios allow educational staffs and safety personnel to mobilize emergency response plans instantly and efficiently in situations where seconds matter.
2. Student drop-off and pick-up – The curb of a school campus can be hectic at the start and end of the school day with hundreds of parents arriving simultaneously to pick up and drop off students. Two-way radios bring order to the chaos by allowing staffs to quickly address impediments to the flow of curbside traffic as well as uncollected students and potential safety hazards.
3. Playground safety – The majority of school injuries happen at recess time with playground accidents and incidents of bullying. Two-way radios enable campus and playground monitors to react swiftly to potentially dangerous situations.
4. Sports programs – Coaching and sports program staffs benefit from the ability to instantly communicate when coordinating student sports activities. In addition, sports injuries can be assessed and addressed in real time by available campus medical personnel.
5. Maintenance – For an elementary school, high school, or large university campus, instant communication can save time and improve efficiency. That is especially important when delays eat into instruction time and needed repairs create safety issues.
Johnston said that two series of radios from Motorola Solutions are especially well suited for school campus communications. He listed the Motorola CLS1110 and Motorola CLS1410, as well as the CLP Series, which includes the Motorola CLP1010, Motorola CLP1040, and Motorola CLP1060.
Motorola CLS Series portable radios are economical, compact, lightweight, and compatible with a variety of accessories. Simplified charging and cloning make CLS radios easy to manage, and they are so simple to use that little or no training is required.
Motorola CLP Series radios are even lighter and smaller. Their design integrates an earpiece, which makes for even more discreet communications. The CLP1010, CLP1040, and CLP1060 are very easy to use, as they integrate only the essential accessory elements. Additionally, the CLP1060 is Bluetooth enabled. It is sold with the necessary Bluetooth earpiece.
"Student safety is of the upmost importance in a school setting," Johnston added. "Education personnel need access to instant one-to-many communications to manage both routine and extraordinary situations on campus."
For more information about Motorola CLS and CLP Series two-way radios for retailers, please visit http://www.BearCom.com. Call 800.527.1670 for Sales assistance and 800.541.9333 for Rentals assistance.
About BearCom
BearCom provides a broad line of high-performance wireless communications products, services, and complete mobility solutions. Founded in 1981, BearCom is America's only nationwide dealer and integrator of wireless communications equipment, serves customers from 26 branch offices located throughout the U.S., has several affiliated offices around the world, and employs approximately 400 people. BearCom is headquartered in the Dallas, Texas area. For more information, visit http://www.BearCom.com and http://www.TodaysWirelessWorld.com.
MOTOROLA, MOTOROLA SOLUTIONS and the Stylized M Logo are trademarks or registered trademarks of Motorola Trademark Holdings, LLC and are used under license. All other trademarks are the property of their respective owners. ©2014 Motorola Solutions, Inc. All rights reserved.