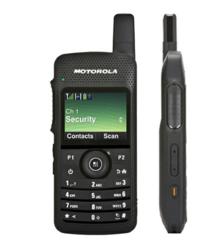 Customers in several industries we serve have talked to us for some time about the need for a product like the MOTOTRBO SL Series.
Dallas, Texas (PRWEB) February 27, 2012
BearCom, a nationwide provider of wireless communications equipment and solutions, today predicted that the Motorola MOTOTRBO SL Series two-way radio could fundamentally change the way some industries approach communication.
Introduced last week by Motorola Solutions, the SL Series is the world's thinnest and lightest digital mobile radio. It is designed especially for business users in the hospitality, services, airline, security, and event industries, which often put a premium on a radio's size, weight, and appearance.
"Customers in several industries we serve have talked to us for some time about the need for a product like the MOTOTRBO SL Series," said Jerry Denham, BearCom's President & CEO. "Now it's here, and managers and staffers who deal directly with customers have a radio that's easy to use, looks great, offers a variety of innovative functions, and is small enough to be carried in a jacket or shirt pocket. For them, we think the SL Series will be a game changer."
Denham predicted that while the size and styling of the SL Series will attract attention initially, users will value its features and employ them to further improve their customer service. Among those features are:

Two-inch, high-resolution color display that automatically adjusts brightness
Support of the industry's largest portfolio of data applications, such as work order ticket management, e-mail, dispatch, network monitoring, and telephone interconnect
Bluetooth connectivity to wirelessly transfer data and enable use of wireless audio accessories
Intelligent audio, which adjusts the radio's volume to fit background noise
Text messaging when discretion is required or routine communication needs to be delivered without interrupting workers or guests
Ultimately, Denham said, interest in the SL Series will be driven by the realization that this breakthrough product offers the size, styling, and functionality of a smartphone without the recurring costs and security issues that have hampered the adoption of phones in many business applications. "Sleek and discreet in two-way radios has reached new heights," Denham noted. "And we expect the market will enthusiastically approve."
About BearCom
BearCom provides a broad line of high-performance wireless communications products, services, and complete mobility solutions. Founded in 1981, BearCom is America's only nationwide dealer and integrator of wireless communications equipment, serves customers from 26 branch offices located throughout the U.S., has several affiliated offices around the world, and employs approximately 400 people. BearCom is headquartered in the Dallas, Texas area. For more information, visit http://www.BearCom.com.
###