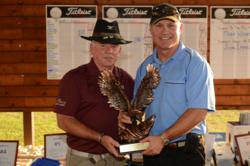 The AUSA Wounded Warrior Golf Classic is the result of the fine work done by our sponsors and volunteers, and this year's event was the best yet.
Dallas, TX (PRWEB) October 11, 2012
BearCom, a nationwide provider of wireless communications equipment and solutions, today announced the golf tournament in which it served as the primary supporter—the 2012 AUSA Wounded Warrior Golf Classic—raised $56,380 for two local charities helping injured servicemen and women.
BearCom and its partner Motorola Solutions served as lead sponsors of the 2012 AUSA Wounded Warrior Golf Classic, held October 1 at Indian Creek Golf Club in Carrollton, Texas. The event attracted approximately 200 golfers, who were treated to gifts, food, prizes, and contests, as well as displays of military vehicles.
"We are so proud to be a part of this great event," said BearCom President & CEO Jerry Denham. "It not only helps two exceptionally worthy charities, it also brings BearCom employees, partners, and customers together with some inspiring men and women from our armed services."
Hal Herron, Vice President & Senior Director for Motorola Solutions, said, "I can't think of a more worthwhile cause, and it's an honor to help support it. Events like this really speak to the kinds of partners we have. At Motorola Solutions, we are all about being your best in the moments that matter. And today, that means quality people and a worthwhile event."
On the course were soldiers from the U.S. Army recruiting office in Mesquite, Texas, and the Warrior Transition Brigade at Fort Hood in Killeen, Texas. That unit sent its First Battalion Executive Officer, Major Estill Collins. "These are great activities for our guys to go to," the Kentucky native said. "Our soldiers have been through a lot, and it's good for them to get out and mingle. They enjoy it."
The golf event is organized annually by the North Texas Chapter of the Association of the United States Army (AUSA), which focuses on programs raising funds and awareness in support of wounded warriors, PTSD and TBI treatment, assisting soldiers and veterans in finding employment in the civilian sector, and raising the leadership quotient for individuals and organizations, ranging from ROTC programs to public and civic entities.
"The AUSA Wounded Warrior Golf Classic is the result of the fine work done by our sponsors and volunteers, and this year's event was the best yet," said AUSA North Texas Chapter President Colonel JP Hogan, U.S. Army, Retired. "It was not only a spectacular event in which to participate, but because of the generosity on the part of a lot of good people, the amount raised far exceeded our goal."
The North Texas AUSA Chapter supports Heroes on the Water and Operation Once in a Lifetime. Heroes on the Water helps injured military personnel relax, rehabilitate, and reintegrate with society through fishing and the outdoors. Developed for patients at Fort Brooke Army Medical Center in Texas, it has spread to locations across the country. Its president, Jim Dolan, said the tournament's donation of $21,750 will help fund more weekend-long kayak fishing trips along the Gulf Coast. He said these longer trips are not only therapeutic for wounded warriors, they also help them form lasting bonds that promote healing.
Operation Once in a Lifetime will receive a donation of $17,315, and matching funds donated under the Wild Turkey 4 the Troops program will double that total to $34,630. The mission of Operation Once in a Lifetime is to make the dreams of U.S. soldiers and their families come true by providing free financial and moral support to U.S service members, their families, and veterans. Operation Once in a Lifetime is dedicated to offering help when it's needed most, whether it's paying a soldier's electric bill or car payment, or simply flying a soldier home. The charity is led by Patrick Sowers, who said the donations resulting from the tournament will be used to open a resale store in the Fort Hood area where veterans can shop for free for needed items.
About BearCom
BearCom provides a broad line of high-performance wireless communications products, services, and complete mobility solutions. Founded in 1981, BearCom is America's only nationwide dealer and integrator of wireless communications equipment, serves customers from 26 branch offices located throughout the U.S., has several affiliated offices around the world, and employs approximately 400 people. BearCom is headquartered in the Dallas, Texas area. For more information, visit http://www.BearCom.com.