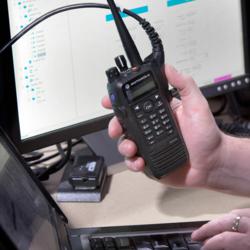 Replacing large numbers of radios is an investment, but it's one that can really pay off.
Dallas,TX (PRWEB) July 05, 2012
BearCom, a nationwide provider of wireless communications equipment and solutions, today issued a reminder to users of two-way radios that they should act quickly to ensure their equipment is in compliance with the narrowbanding mandate from the Federal Communications Commission (FCC).
BearCom pointed to the latest statistics showing that nearly half of FCC licensees—43.3 percent—have yet to transition to the narrowband (12.5 kHz) technology called for in the agency's narrowbanding initiative. Its objective is to increase capacity and efficiency for the industrial/business and public safety radio pools in the private land mobile radio services category. The mandate requires public agencies and companies that currently use legacy wideband (25 kHz) systems in the VHF and UHF bands to make the transition to narrowband by January 1, 2013. Users who don't make the switch face potential fines and possibly the loss of their communication capabilities.
"Even with all the advance notice and publicity about narrowbanding, it's clear many users are waiting to take action," said BearCom President & CEO Jerry Denham, who detailed a three-step process for getting into compliance. With the help of a qualified two-way radio communications consultant, he said, users can conduct an inventory of equipment that should reveal which units can be converted to 12.5 kHz and which must be replaced. Users then can arrange for the conversions and procure up-to-date equipment. Lastly, new or modified FCC licenses can be obtained.
"Replacing large numbers of radios is an investment, but it's one that can really pay off," Denham added. "The latest digital two-way radios offer applications and features like texting, GPS capabilities, and asset tracking. They can help bring about new levels of business efficiency that provide a substantial return on that investment."
BearCom, which offers compliance analysis, equipment upgrades, and license preparation and modification, has been a leader in educating users about the narrowbanding mandate. BearCom partnered with Motorola Solutions and the Enterprise Wireless Alliance to launch Narrowbanding.com, an important educational resource. It has made its Two-Way Radio Narrowbanding Guide available free for downloading from the BearCom website and produced a video tutorial on the topic.
"The countdown continues to the January 1, 2013, narrowbanding deadline," Denham said. "And with nearly half of licensees still to make the transition, there is plenty of work to be done to ensure that vital communications aren't adversely affected."
About BearCom
BearCom provides a broad line of high-performance wireless communications products, services, and complete mobility solutions. Founded in 1981, BearCom is America's only nationwide dealer and integrator of wireless communications equipment, serves customers from 26 branch offices located throughout the U.S., has several affiliated offices around the world, and employs approximately 400 people. BearCom is headquartered in the Dallas, Texas area. For more information, visit http://www.BearCom.com.