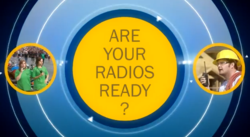 We at BearCom want to help two-way radio users understand the new rules and what steps they may need to take to be in compliance by January 1, 2013.
Dallas, TX (PRWEB) March 05, 2012
BearCom, a nationwide provider of wireless communications equipment and solutions, today made available an instructional, animated video detailing the important changes coming soon to the federal regulation of two-way radios.
The Federal Communications Commission (FCC) is requiring companies and public agencies that use two-way radios to employ 12.5 kHz narrowband technology. Users must modify their FCC licenses and, when appropriate, reprogram or replace existing equipment to meet the narrowbanding requirement. BearCom has been a leader in educating the public about the federal mandate, which aims to increase capacity and efficiency for the industrial/business and public safety radio pools.
The video, which can be viewed at http://www.YouTube.com/BearComTV, was produced in partnership with Motorola Solutions. It compares the new FCC rules to the re-striping of a busy highway. With more lanes, the video explains, the highway can accommodate more traffic. The video reminds users that while many newer radios can be reprogrammed, some older ones must be replaced. The deadline for compliance is January 1, 2013, and violators face the prospect of heavy fines and the possibility of losing their FCC licenses.
"The narrowbanding mandate is causing hundreds of thousands of two-way radio users to make investments in their equipment," said Jerry Denham, BearCom's President & CEO. "We at BearCom want to help them understand the new rules and what steps they may need to take to be in compliance by January 1."
BearCom, Motorola Solutions, and the Enterprise Wireless Alliance (EWA) worked together to launch http://www.Narrowbanding.com last year to serve as another important resource to help educate the public about the narrowbanding requirement. BearCom also released its 2012 Two-Way Radio Narrowbanding Guide, which is available free for downloading at http://www.BearCom.com/Resource-Library.
"With this federal mandate come some real opportunities," Denham said. "Two-way radio technology continues to advance, enabling users to move to new levels of efficiency and cost savings. We want to help companies and agencies make the right choices from the many communication options available to them."
About BearCom
BearCom provides a broad line of high-performance wireless communications products, services, and complete mobility solutions. Founded in 1981, BearCom is America's only nationwide dealer and integrator of wireless communications equipment, serves customers from 26 branch offices located throughout the U.S., has several affiliated offices around the world, and employs approximately 400 people. BearCom is headquartered in the Dallas, Texas area. For more information, visit http://www.BearCom.com.
###