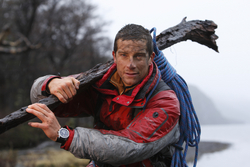 one of the most effective evangelism tools for the 21st century.
Orlando, FL (PRWEB) July 27, 2009
Followers of the Discovery Channel reality program "Man vs. Wild" are used to seeing the show's star, Bear Grylls, taking on the elements in some of the toughest places on earth. This fall, fans will have a rare opportunity to see Grylls in person when he travels to Central Florida to take on some of the toughest questions life has to offer.
Grylls will be a featured presenter at The 2009 National Alpha Conference, October 20-21, at Northland, A Church Distributed in Longwood, Fla. This gathering will bring together 3,000 individuals from churches across America who share the vision to reach their communities with the good news of Jesus Christ via The Alpha Course.
Started in London in 1979 as a brush-up course for rusty churchgoers, The Alpha Course has become a worldwide phenomenon and is now held in 163 countries. It is estimated that more than 13 million people worldwide have attended an Alpha Course.
The Alpha Course comprises 15 sessions held over 10 weeks and is free and open to everyone. No question is out of bounds, and participants are free to say as much or as little as they wish as they make up their own minds about the teachings of Jesus. Spirited discussions often ensue on topics ranging from "Who is God?" and "Why am I here?" to "Why is there suffering?" and "Is God a delusion?"
At the National Conference, participants will discover how to use The Alpha Course to address these and other challenging questions in a variety of settings--churches, prisons, the military, workplaces, university campuses and many other places.
Many churches offering The Alpha Course report that their attendance has exploded as a result. Pastor Rick Warren, author of the worldwide bestseller The Purpose-Driven Life, calls The Alpha Course "one of the most effective evangelism tools for the 21st century."
Grylls will speak both at the conference and during a citywide evangelistic crusade the evening of October 21. Joining him will be Nicky Gumbel, leader of Alpha International and senior pastor of London's Holy Trinity Brompton, and Christian songwriter and worship leader Brenton Brown.
Alpha has just released a new, three-minute commercial starring Grylls. In the action-packed ad, Grylls is stranded on a desert island and is desperately trying to catch the attention of a helicopter passing overhead. "When you get a chance to be saved, you gotta grab it," declares Grylls before dashing off into the jungle.
Fighting his way through the brush, he dives headfirst off a cliff into the ocean, eventually landing on a beach where he struggles to start a fire with his survival knife and a piece of flint. Finally, in desperation, he begins spelling giant words in the sand to catch the attention of the copter whirring overhead ... resulting in a surprise ending.
To watch the new commercial featuring Bear Grylls, visit Alpha's social media newsroom.
To learn more about Alpha, find an Alpha Course near you, or for information on The 2009 National Alpha Conference, visit Alpha online. For interviews, contact Michael Singh at (224) 588-8521 or michaelsingh(at)alphausa.org.
###