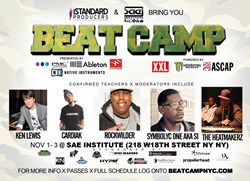 Attendance at 'Beat Camp' is a perfect first-step for aspiring music business pros who want to turbocharge their careers and make huge strides in their professional journeys.
New York, NY (PRWEB) October 21, 2013
"Beat Camp," a weekend education seminar for aspiring recording artists, engineers, and music producers, will make a stop at SAE Institute New York from Friday, November 1 through Sunday, November 3.
"Beat Camp" is a partnership between SAE, which was recently recognized as being the best recording and engineering school in America by Vibe Magazine, and iStandard Producers, an organization that creates networking and collaboration opportunities for professional music producers. "Beat Camp" sponsors include Monster Energy Drink, XXL Magazine, and Native Instruments, a leading manufacturer of software and hardware for computer-based audio production and DJing.
"Attendance at 'Beat Camp' is a perfect first-step for artist, producers, and music business professionals who want to turbocharge their careers," says Michael Morrell, Campus Director of SAE Institute New York. "The education and networking opportunities for participants will be incredible, and will allow anyone who's serious about working in the music business to make huge strides in their professional journeys."
"Beat Camp" will feature classroom discussions on producer branding, management, A&R meeting simulations, studio techniques, networking/brand building strategies, songwriter-producer synergy, sampling, and live mixing sessions. Each seminar will be led by professional producers and engineers with major credits and experience, including Grammy-nominated producers Cardiak, Da Beatminerz, Ariel Borujow, Ryan West, and Baby Paul; and Grammy-winning producers Symbolyc One aka S1, Rockwilder, Jimi Kendrix, and Easy Mo Bee. Also participating will be multiple Grammy-winning producer/arranger/mixer/songwriter and founder of Audio School Online Ken Lewis.
Evening "Beat Camp" activities will include the iStandard Producer Showcase, Celebrity Beat Cyphers, and Impromptu Beat Battles, which will take place at nightspots around Manhattan. There will also be vendor demos, raffles, and other special events throughout the weekend.
"I like to think of 'Beat Camp' as being boot camp for producers," says J. Hatch, co-founder at iStandard. "The pros who are participating in the seminars inject first-hand experience into the discussion, and let attendees know that being a working music producer isn't just about beats and grooves – it's a business. By the time 'Beat Camp' is over, aspiring producers know exactly what they need to do to take their careers to the next level."