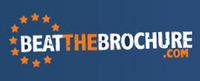 (PRWeb UK) November 16, 2010
A new travel study shows that potential holidaymakers are increasingly using the internet to plan their holidays. The survey found that nine out of ten people use their home computers to look up travel information online. These numbers reflect a growing trend of internet use amongst people looking to book city breaks and other holidays, says Daniel Ox, Managing Director of online holiday experts Beat The Brochure. Ox elaborates: "The internet has infiltrated almost every part of our society and the travel market is no exception. Indeed, there is so much great travel information out there on the internet and you can find key facts on virtually any destination just by logging on to your home computer."
The study also found that one third of all travellers use YouTube, the free internet video sharing site, to view their destination before making a decision. Users from all across the world upload video to this site, which according to Ox, allows travellers to visually research a wide variety of trips such as cheap Florida holidays and adventures in Kenya.
Ox says this trend is in the interest of holiday-makers as it ensures that they have access to all the information they need before making a booking. He concludes: "At Beat The Brochure we think this study represents a great development for the travel industry. People can use sites like ours, or general sites like YouTube and Wikipedia to thoroughly research and plan their trips. This means that they will be able to make more informed decisions when booking holidays, and also have a clear idea of what they want to do when they get to their destination. The internet has made booking trips, such as holidays in Las Vegas, so much easier for people all over the world."
About Beatthebrochure:
Beat The Brochure's technology brings all the leading UK travel suppliers together in one simple search, affording our customers access to the very best deals from leading operators such as Thomson, Thomas Cook and First Choice.
Our technology also has the ability to bring together a huge range of hotels, flights, cars and transfers to create your own bespoke package - offering you the ultimate in flexibility at lowest possible price in one seamless experience.
Beat The Brochure is part of the award winning Como Street Travel Group with offices based in Central London, Essex and Blackpool and Florida, now boasting a team of almost 100 experienced travel consultants.
Beat The Brochure is a fully bonded member of the Travel Trust Association (TTA U0898) and is licensed by Civil Aviation Authority (ATOL - T7270) offering you and your money the very best in financial protection and peace of mind at all times.
# # #